Last Friday, community organizers gathered in a South Seattle parking lot for the first time in three weeks after a shooting there injured five people at the end of July. For three years, the King County Boys and Girls Club's SE Network SafetyNet had mostly kept the peace in the lot, where one year 12 shootings occurred. The Sunday before the group relaunched the safe space, a mass shooting in a hookah lounge five miles north of the Safeway killed three people and injured six others, further destabilizing the community as organizers worked to respond to the last one. 
Two mass shootings in less than a month in South Seattle led to calls for policy changes from Seattle Mayor Bruce Harrell and King County Council Member Girmay Zahilay, though the two clearly want to take different approaches to the issue, which may prevent a cohesive response to gun violence from "every level of government," as Zahilay called for last week.
Speaking on Friday to a crowd mostly composed of anti-gun violence volunteers, elected officials, and government workers, Zahilay talked about creating hyper-focused intervention and prevention strategies. He stressed the importance of supporting programs capable of actually reaching the people most likely to suffer gun violence, and he pointed to the success of community intervention strategies such as those carried out by the SE Network SafetyNet. 
In the aftermath of a shooting, community-based interventions often face undue criticism, but the work done by organizations such as the SE Network and Community Passageways builds trust with the people most likely to do the shooting or be to shot, Zahilay said. Funneling more resources to those groups will allow organizers to intervene before it's too late, he added. 
He also pushed for local governments to hire more case workers to support families dealing with the ramifications of shootings, which could help end the cycle of violence.
In an interview with The Stranger on the Tuesday before the event, Zahilay argued that police may help in responding to shootings, but they're unlikely to prevent random acts of violence unless officials deploy cops on "every square foot of the City." Moreover, the Safeway shooting did not happen in the absence of police. Seattle police officers on an emphasis patrol left the lot minutes before the shooting happened, according to the Seattle Times. The Seattle Police Department still hasn't made an arrest in the case.
SE Network SafetyNet Executive Director Marty Jackson acknowledged that the shooting at the Safeway shook her team's confidence in their own personal safety. The shooting injured two of her team members, and so the group plans to take "baby steps" when it comes to their relaunch, she said. While the organization once waited in the parking lot until 10 pm or so, they plan to leave closer to 8 pm now, and Jackson asked for a police presence to keep the space safe after the group leaves.
"We all play a role. Our approach is about the people in the community, about building those relationships and deescalating and preventing violence," Jackson said. "Law enforcement plays a different role. We don't deal with active shooters, that's law enforcement's lane."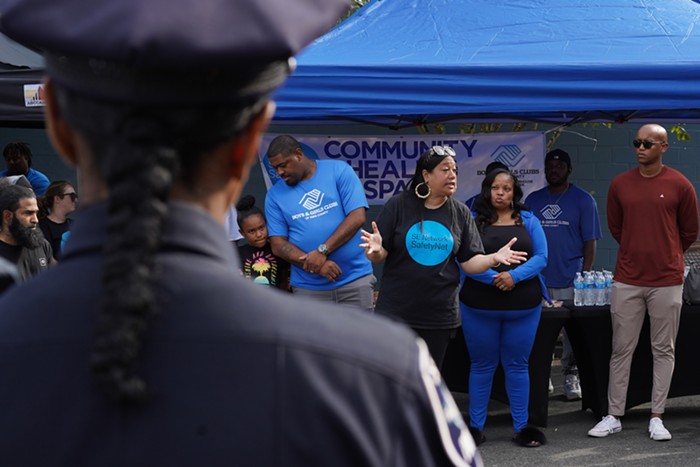 In a statement released after the shooting in the hookah lounge, Harrell highlighted the 869 guns SPD confiscated so far this year and noted that the department appears on track to collect almost as many guns as it did in 2018, when SPD recovered a record number of 1,400 guns in a single year. To pull even more guns off the street, the Mayor said he intends to lobby the Washington State Legislature to allow cities to set local laws over firearms.
However, confiscating guns doesn't appear to reduce gun violence. Recent studies of gun reduction strategies in major cities such as Philadelphia and Chicago show how confiscating guns failed on that score. For one thing, the number of guns already in circulation likely dwarfs the capacity of any local police department, no matter the size. In 2020, gun purchases in the US soared to the highest numbers in recorded history, with Americans buying about 21.8 million firearms. Seattle's local market reflected national trends, according to a KUOW report. 
Furthermore, pulling guns off the street often goes along with pulling people off the street. The Marshall Project's in-depth look at the war on guns in Chicago showed that young Black men make up a disproportionate number of the people sent to prison. The same can be said in Seattle, where Black people make up 8% of the population but have accounted for about 56% of SPD's arrests for illegal firearm possession since 2019. So far in 2023, Black people have made up about 60% of firearm possession arrests.
Prosecuting people for gun possession also doesn't seem to target the people who commit violent offenses. One study showed that most people convicted of felony gun possession in Illinois did not have a history of violent crime and did not go on to commit violent crimes. In Philadelphia, the city's district attorney said he would prefer cops to focus on investigating shootings. 
In Seattle, SPD arrests for unlawful possession of a firearm more than doubled from 2019 to 2022, but in 2022 gun violence reached an all time high. This year, SPD looks on pace to match 2022's number of unlawful gun possession arrests. However, police have still made no arrests in either the Safeway parking lot shooting or the shooting at the hookah lounge.
Of course, instead of focusing on social support for families of gun violence or recovering guns, we could follow the lead of the City Attorney and put resources toward cracking down on hookah lounges.