I feel obligated to acknowledge up-front that the New Year we'll be celebrating this weekend has nothing to do with the Chinese lunar new year, which will occur on February 18, 2007, and will usher in the Year of the Boar. That said, I don't care. I prematurely welcome the Year of the Boar with an open heart (and mouth), and use it as a convenient excuse to resolve to eat as much pork—my all-time favorite meat—as humanly possible in the next year.
Kick-off for the "Year of the Pork" necessitated a visit to Samurai Noodles, which opened shop on the west side of the Uwajimaya complex, in the International District, in October. I made a beeline for Samurai immediately after receiving an e-mail from one of my most trusted eating partners: "I found God. He's in a bowl of noodles at Samurai Noodles! Liquid pig." I can't do any better than "liquid pig" in describing Samurai's tonkotsu ramen—a thick, almost creamy, pork broth served with egg noodles and moist slices of roasted pork. Fellow pork lovers will find this soup an immeasurably satisfying and judicious use of the pig—its potent flavor, texture, and scent are so inextricable from one another it's downright rapturous.
Sponsored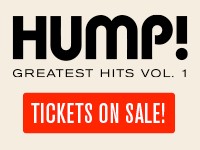 What are YOUR favorite HUMP! films? Start with HUMP! Greatest Hits, Volume One! Relive the memories!