Jonathan Walters's grandfather was a Texas shrimper: dirty, coarse, and tough. He's retired now, living near Corpus Christi—in a small town that's dying along with the shrimping industry, strangled from afar by cheaper, farm-raised shrimp.
Walters, the grandson, lives in Portland, where he directs the performance company Hand2Mouth, but used to spend summers in Corpus. As a child, he thought it was beautiful. "The docks, the oil refineries, the rows of cotton being sprayed with pesticides," he enumerates. "My dad used to laugh and say I wouldn't see that as beautiful when I became an adult."
But he still does. That crucible of grandeur—wild and industrial, pristine and toxic—is the soul of Walters's vision of America and the soul of Hand2Mouth's Repeat After Me, coming this weekend to On the Boards.
The show is an impressionistic freak-out with patriotism of the "freedom-isn't-free" variety as its theme. The performers sing snippets of about 30 songs (most of them cheesy, from Bob Seger to new-country schmaltz) with an amateur, just-folks delivery, like karaoke night in a Kiwanis Club. Between songs, there are a series of "American Tableaux"—a pie-eating contest, mechanical fucking on the beach, a campfire.
It's a controlled mess, in the style of Forced Entertainment and Dorky Park. Hand2Mouth saw both (the former from England, the latter from Berlin) at On the Boards last year and, Walters said, "We had our minds unhinged." Repeat After Me, which I saw last month at the Time-Based Art Festival in Portland, has profited from the influence. Its best moments are redolent of both companies and seem to alloy opposites—playful and sinister, alluring and repulsive, part critique and part homage. Like when a woman angrily strips to "Proud to Be an American." Or when a man raps about being a cowboy and gags himself chugging beer after beer. Or when all the performers go bonkers, throwing things (and themselves) around the stage to Stevie Wonder's "Superstition."
Walters says Hand2Mouth developed that passage after a conversation with Tim Etchells of Forced Entertainment. Etchells suggested that the company do 40-minute improvisations and film them. If they found a good chaotic moment, they should re-create it precisely. "He said it would seem boring the next 30 times we rehearsed it," Walters said. "But that it would never get a second life if we tried to liven it up and add things. You have to lock it in."
Hand2Mouth is only seven years old and hasn't achieved the grandeur and sophistication of its influences, but Repeat After Me is getting close. It's a dirty, tough, and coarse little show that begins with a lie—that, in 86 minutes, you will know exactly how you feel about being an American.
Sponsored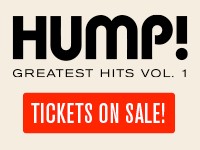 What are YOUR favorite HUMP! films? Start with HUMP! Greatest Hits, Volume One! Relive the memories!