The online ads for the Seattle Suites sound promising: "The property focuses less on resort-style amenities than it does on creating a feeling of at-home comfort," says one listing on Hotels.com. Another website touts its location at the "heart of downtown" where guests can "live like a Seattleite."
While Seattle Suites—which owns 6 of 26 short-term rental condos inside the Elektra Condominiums, just east of the Washington State Convention Center at Hubbell Place—is booked solid, it's not so popular with some residents of the Elektra.
Tika Bordelon, who's owned an 11th-floor unit at the Elektra for almost six years, doesn't like how at home the Elektra's guests feel. "[People] smoke or barf and pass out in the hallways," he says of some of his neighbors. "There's constantly strange people coming in and out of the building," says one of Bordelon's neighbors, who asked not to be named. "It's basically a hotel."
For 12 years, a handful of condo owners in Bordelon's building—including Seattle Suites—have rented out at least 26 of the Elektra's 200 condos as vacation rental units (VRUs) for convention attendees, businessmen, and, occasionally, parties. Bordelon and several other owners in the Elektra—fed up with noisy, unpleasant, and temporary neighbors—started to push back, enlisting the city's help to deal with the VRU renters, which they believe violate the city's zoning laws.
In October, the Department of Planning and Development (DPD) sided with Bordelon and other angry owners and notified VRU owners they were in violation of city regulations, which define the Elektra as a completely residential property. City guidelines say renting to tenants for less than 30 days—as hotels, motels, and bed and breakfasts do—means the condos are being used commercially, in violation of Seattle's zoning laws.
"People are renting these places out for a few days at a time and people are upset because it's disruptive," says Diane Davis, DPD's code compliance manager. "People didn't know that they were [moving] into a hotel."
Additionally, Davis also believes the VRUs are eating into Seattle's already perilously low affordable-housing stock. "This is not a high-end building," she says. "The units are assessed under $200,000. It's relatively inexpensive housing close to downtown. Not too many other buildings downtown could meet [that niche]."
After DPD's initial determination, VRU owners appealed the decision and continued renting. "We've been there for 10 years with no issues," says Seattle Suites owner Becki Snellenberg. "Until last year, [then] you had a handful of people that decided this was an issue for them. There's a number of problems that exist in [the] building, but they're not disproportionately [guests]."
According to Snellenberg—who does not live in the Elektra—VRU rentals are specifically mentioned, and allowed, in the Elektra's ownership agreement. Snellenberg rents one-bedroom apartments for about $150 a night. "This is not buried somewhere [in the bylaws]. When they sign off, they're signing," she says. "I would not call this fine print by any means." Indeed, the Elektra's owner contract only prohibits renting units for less than three days at a time.
"The whole issue is what constitutes a residential rental [in Seattle]," she says. "[The city has] no definition of housing at all. Our position is, it's not transient housing; it's residential rental."
While VRUs may be in the Elektra's bylaws, the city still considers Snellenberg's units to be temporary or "transient housing," and DPD's Davis says city codes override anything in owners' contracts. "They're focusing on the physical layout and the fact that it looks like an apartment," she says. "People are renting for a short period of time [and] they're not changing their mailing address. It's not a residential lease; it's a commercial contract to use the space."
The tense dispute between condo owners and VRU renters should be over soon. Elektra residents will meet for their regularly scheduled board meeting on April 17, where the VRUs are sure to be an issue. DPD will rule on the VRU owners' appeal sometime in the next few months, and if the city stands by its ruling, Snellenberg and other VRU owners could take a financial hit. According to DPD, each VRU owner could be fined $150 per day for the first 10 days worth of violations and $500 for every day after that.
Sponsored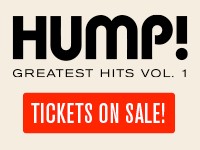 What are YOUR favorite HUMP! films? Start with HUMP! Greatest Hits, Volume One! Relive the memories!