You find your seat, not 15 feet from the action. Just as you sit down, the room erupts. One of the combatants is on his back. "What did I miss?" you ask. Greg Haugen, former world lightweight champion, turns around. "Don't worry, there's seven more fights tonight," he says.
This isn't the Mandalay Bay in Vegas, or the Forum in L.A. It's the Emerald Queen Casino in Tacoma--the same place that regularly plays host to Tom Jones and Engelbert Humperdinck, countless bad comedians, and KISS 106.1 dance parties. The Emerald Queen has hosted nine fight cards--consisting of seven bouts in a night--over the last three years to ever bigger crowds. And just outside of Olympia in Rochester, the Lucky Eagle Casino has hosted 35 fight cards in the past six years. Cheap hot dogs and Budweiser on every tap make the Lucky Eagle venue a real down-home spot. ("Nothing is fake here," says Duncan MacLeod, director of marketing for the Lucky Eagle. "We try to put on an exciting show every time out.")
Thanks to the Emerald Queen, the Lucky Eagle, and a handful of other venues in Washington state, prizefighting has been enjoying a blue-collar revival in the Northwest. Casinos are renovating their event pavilions to accommodate the increasingly large crowds--and live television broadcasts. The Emerald Queen recently hosted the Showtime network's new fight program, ShoBox. Professional boxing in Washington is set to make its mark on the national scene.
Several American cities are rich in boxing history and lore, earning their reputations through decades of major fights, legendary gyms, and home-grown champions. Think Detroit, Philadelphia, New York City, and Las Vegas. But Seattle and Tacoma have never been known as boxing cities, despite our region's long involvement with professional boxing. Floyd Patterson, considered one of the best boxers of all time, pound-for-pound, fought Olympic gold medalist Pete Rademacher in 1957 at the old Sick's Stadium on Rainier Avenue. Eddie Cotton of Tacoma was a dominant contender during the '60s, and in 1972, Tacoma's Sugar Ray Seals captured Olympic gold. Tom Munstin, the 2000 Olympic team coach, now works with local kids at the Hilltop Boxing Club in Tacoma.
But perhaps the most famous--some would say infamous--event in Seattle's boxing history was the much-talked-about Man vs. Woman bout, held at the Mercer Arena in 1999. The bout was a promotional gimmick staged by trainer/gym proprietor Bob Jarvis, who wanted to attract attention to his top fighter at the time, Martin O'Malley. But what was supposed to serve as a warm-up fight for the main event soon became the headliner. The bout between Bremerton's Margaret MacGregor and Loi Chow stole the limelight, catching the attention of Newsweek and the Today show. (MacGregor beat Chow.)
Manufactured gender issues aside, boxing has always been a controversial business, from fixed fights to pay-for-rankings schemes. Think Don King. And while it remains a safer activity than football or NASCAR racing, death in the ring is not unheard of. On the June 26, 2001 edition of ESPN2's Friday Night Fights, a fighter named Beethavean Scottland, 26, was killed as a result of severe head trauma, which may have been caused as early as the fifth round (he was knocked out in the tenth). Fans often boo when a referee stops a fight, and the pressure to put on an exciting fight will sometimes cause an official to allow a fight to go too far.
These tragedies are rare, but the American Medical Association has nevertheless called for a ban on prizefighting. Locally, the Washington State Athletic Commission has taken steps to insure the safety of fighters. Working with an unusually small budget (the commission doesn't charge 10 percent of the gate, as in other states), the WSAC oversees the weigh-ins, hires doctors to work the fights, and provides licensing and training for referees. The WSAC also imposed a rule that if a fighter is knocked out, his or her license is suspended for 60 days, to allow enough time to spot undetected injuries.
Several local scrappers are currently working their ways up the professional ranks on the Washington club circuit. Sam Ditusa, of Ditusa Boxing Enterprises, is a Seattle police officer who spends his free time managing local fighters. One of his prospects is Tacoma native Michael Samms, who recently won a unanimous decision over Scott Lansdon at the Emerald Queen. Samms, 25, has big hopes.
"I just moved home from Pullman," says Samms, "where I was attending WSU. I needed to come home, not just for the training, but to be close to family and my son. I love Tacoma, and there's nothing like
getting up in the ring in front of your hometown." Undefeated at 4-0, Michael looks at boxing as a chance at a future for his family. "I want to go all the way, get ranked, and fight for a title," says Samms.
Another of Ditusa's fighters is Capitol Hill fixture and British charmer Neil Stephens, who went from busting heads at the now- defunct Eileen's Sports Bar to earning a grand a fight as a pro. Stephens began fighting on the streets of London before emigrating to Seattle at the age of 16. He's decidedly "old-school," with tough-guy looks, hard blue eyes, and a straight-ahead fighting style. Stephens has trained in top-flight gyms in Atlanta and Dallas, but he recently returned to Seattle from Dallas to continue his training at the Credit Boxing Club, and is set to fight on some of the many planned cards at the Emerald Queen and Lucky Eagle. While remaining optimistic about his career in the ring, Stephens is realistic about his future.
"It's a tough, brutal business I'm in," Stephens says. "If my break comes, I'll take it, but in the meantime I need to pay the bills."
The local media virtually ignores prizefighting, opting to give coverage to "cleaner" sports. One reason may be that the only national headlines you see involve big-name fighters and their exploits outside of the ring (see Mike Tyson). Another may be our region's disdain for anything with dirt under its nails. Club fighting is the essence of boxing, and while the local TV and newspapers may be sleeping, the sport is thriving, right in our backyard.
Matt Sorenson is the Northwest correspondent for FightNews.com. He can be reached atmatt_fightnews@hotmail.com. To find out about upcoming fights, contact the casinos mentioned at www.emeraldqueen.com and www.luckyeagle.com.
Sponsored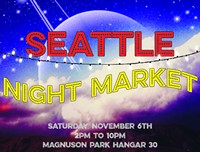 Shop, snack and booze your way through 75+ local shops & retailers. 21+ with vaxx or negative test

You walk in just as the first fight gets underway. A good-looking kid, about 24, faces off against a stocky, five-foot-six version of Mr. Clean. The house lights are blacked out except for the bright white lights above the ring. Waiting in line for a drink you hear the crowd roar, and turn just in time to see the referee issue the first standing eight-count of the night. Hurriedly, you grab your drink and push through the strangest mix of people you've ever seen outside of an airport: women in red evening gowns, cowboys with more breaks in their noses than hours in the day, men flaunting Mr. T gold, and old-timers with "been around the block" written all over them.