For the past eight years, David Robison has mentored a boy through Big Brothers Big Sisters of Puget Sound (BBBS of PS), a group whose nomenclature, somewhat oddly, calls the adults "Bigs" and the kids "Littles." In the past, Robison and his Little have taken a trip to Canada, they've gone on bike rides, and—at the encouragement of an organization caseworker—they've had overnights together at Robison's home.
Sponsored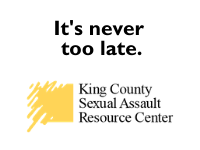 Free, confidential, inclusive support and information about sexual assault is available 24/7
But the overnight visits now need to stop.
On January 31, BBBS of PS sent a letter to all 1,500 adult-child pairings announcing an immediate policy change: "Overnight visits between Bigs and Littles are strictly prohibited except in the event that it is an agency sponsored event."
Robison, a partner in a Seattle software firm, calls this an "overreaction." The sleepovers have provided an unparalleled opportunity for Bigs and Littles to bond, he says, and they expose children to the ways other people live. "The only thing I can assume is that there was some sexual activity between a Big and Little during an overnight stay," Robison speculates.
He's speculating in the right direction, it turns out.
"We've had a recent allegation," BBBS of PS president Patrick D'Amelio said on the phone when asked if there were instances of reported sexual abuse between mentors and children in the program. "We are working through those issues with a high regard for the child's well-being and cooperating with law enforcement."
D'Amelio declined to say where or how recently the alleged abuse occurred. (Attempts to track down the case in the courts were unsuccessful.) But D'Amelio adds that he doesn't know whether this recent allegation is linked to an overnight visit or not.
Repeatedly, D'Amelio stressed that the policy change—which he says elicited three complaints and 15 commendations from Bigs—results from at least two years of consideration about steps to promote child safety. "There is not a specific event that led to the change in this policy," D'Amelio adds. Still, this isn't the first allegation they've encountered. "We have had to—and I am pleased to say on extraordinarily rare occasions—deal with allegations of child safety," D'Amelio acknowledges.
Nationally, Big Brothers Big Sisters has been recognized (along with groups like the Boy Scouts of America) for proactively staving off potential abuse, screening its volunteers, and holding regular check-ins between volunteers and caseworkers. And though it may be difficult to believe that in this day and age—following the Penn State mess and the Catholic Church's nonstop embarrassments—a national youth mentoring organization would allow its volunteers to take children home for sleepovers, Big Brothers Big Sisters does exactly that at the national level, and even encourages many of its 370 affiliates around the country to allow sleepovers.
A statement provided by the national BBBS office to The Stranger says that the number of cases "alleging that anyone within our organization perpetrated child sexual abuse or exploitation on a child associated with our organization amounts to a fraction of a percentage point per year..." And the rules for overnights are strict: The Little and Big must sleep in separate rooms with a shut door between them, and there's no changing clothes in front of each other. Volunteers also go through extensive background checks and training.
In Seattle, however, this is all beside the point now, because sleepovers are not going to happen anymore.
People familiar with the local program aren't shocked by the change.
Tina Podlodowski, the immediate past president of the local Big Brother affiliate, says she is "sad to hear about the policy change, but again, BBBS really does pride itself on no incidents, so I am not surprised." Podlodowski, who left the organization in 2009, says, "There had not been any incidents in the Puget Sound chapter for years and years... I can't recall one."
As for Robison, he's had enough. He had been planning to take his husband, his 7-year-old son, and his Little on their third annual vacation. But he was hurt that the organization banned overnights without consulting Bigs, without creating a grandfather clause for existing matches, and without offering additional training. So he sent a resignation letter on February 18.
Informed that this was in the works for years, and that there was—as he had speculated—a recent abuse allegation, Robison was even more disappointed. "If they have been planning it for two years, they should have done a much better job of getting information out, and working with Bigs and Littles instead of giving us this letter with no explanations."
As for Big Brothers, they aren't willing to compromise. D'Amelio says, "We have to be vigilant about child safety."