Most electronic shows are about as exciting to watch as data entry. Sure, there's sometimes engaging video work, but by and large, going out to a "show" means either watching someone casually mix records or lazily twiddle knobs. Admittedly, such performances are usually meant as a call to action (dance!), so it's refreshing to have acts like Cobblestone Jazz bridging the gap between live performance and dance party.
Sponsored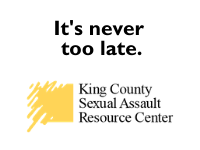 Free, confidential, inclusive support and information about sexual assault is available 24/7
The trio—consisting of Tyger Dhula, Mathew Jonson, and Danuel Tate—silence doubters of "live" electronic music; true to the Jazz in their name, the group's performances are improvised jam sessions that trade traditional instrumentation for laptops, drum machines, and synths. Rejecting the set-on-rails approach adopted by many electronic producers, Cobblestone Jazz play off one another, working their way in and out of proper tracks, using their sets to construct sonic narratives. The group's live appeal has seen them play both the usual electronic outlets (Mutek, Fabric) as well as those more unexpected (Switzerland's Montreux Jazz Festival).
With their performance-centric mentality, their releases are a distillation of the live experience, more akin to recorded jams than definitive versions. This looseness has served the group well, garnering them critical acclaim since their early releases on Wagon Repair and Itiswhatitis.
Unfortunately, many listeners will base their opinion of Cobblestone Jazz on the first, more traditional disc on their first CD release, 23 Seconds, on Studio !K7. While that disc features some moments that deftly combine the jazz aesthetic with minimal techno's palette ("Hired Touch," "Lime in Da Coconut"), there's too much meandering to create techno converts. More convincing is the album's second disc, which starts with a live recording of a 2007 Madrid performance. The live performance exhibits more direction than the separated tracks, taking many of the same elements from the first disc and presenting them in a much more dynamic, engaging fashion, with an urgency that apparently didn't translate to the studio.
The group is forthcoming about their performance focus, and the disparity between the two discs of their album proves that they're a group that must be seen live to be fully appreciated. Consider it the double-edged sword of all that jazz influence: Improvisation offers unlimited flexibility, but with no audience to play off of, it falls a little flat. Context is everything.
Cobblestone Jazz play Sat Feb 23 at Nectar, 9 pm–2 am, $12 adv, 21+. With Dave Pezzner and Nordic Soul.
•••
A few other notes for your calendar:
Dirtybird's Christian Martin and Worthy play Chop Suey on Friday, February 22. The hype over the Dirtybird label has subsided a bit, but Christian Martin (brother of label founder Justin) has got its quirky sound on lock.
Harsh is back with a one-off at the Rendezvous on Tuesday, February 26. As always, their artists have the best names around, with Herpes Hideaway, Red Squirrel, and In the Age of Terminal Static joining D.C.'s Bajskorv for a night of "electronic death."