Few education-reform proposals evoke as much passion on both sides of the issue as charter schools. Or as much divisive, absurd rhetoric: "This really is sorta Washington State's bridge at Selma moment," Representative Glenn Anderson (R-Fall City) testified at a January 20 committee hearing, comparing a bill on charter schools to a 1965 civil rights march near Selma, Alabama, in which hundreds of nonviolent marchers were bloodied by police beatings.
"There was a day when people wanted to walk across the bridge because they wanted a better life for their children, and they were willing to make the sacrifices," Anderson, a native Alabaman, continued with his tortured metaphor. "On the other side of that bridge, there were people who were there to enforce the status quo."
Which I suppose makes the hundreds of thousands of Washingtonians who thrice rejected charter-school measures—in 1996, 2000, and 2004—the moral equivalent of the villainous Sheriff Clark and his nightstick-wielding deputies.
Elsewhere in the nation, the movement has been picking up momentum, growing more than threefold over the past decade from 1,542 charter schools nationwide in 2000 to 5,275 in 2011. And the push is on once again in Washington State, thanks to a bevy of reassuringly named new and newly reconstituted pro-charter reform organizations, including Stand for Children, Democrats for Education Reform, and the League of Education Voters, not to mention generous backing from the bottomless pockets of the Bill & Melinda Gates Foundation.
Many of them are backing two charter-school bills in Olympia, one in the senate and another in the house, each with 16 cosponsors. If approved (as appears likely in the senate), the legislation would allow the state to transfer funds from regular public schools to create up to 50 privately run charter schools.
If other charter-school advocates have been more tactful than Anderson, they've been no less brazen. "Nationally, about 20 percent of charter schools have been found to do a better job of educating students than public schools," insisted the Seattle Times in a pro-charter-schools editorial on January 16 intended to push the bill through the legislature. But the newspaper neglected to inform readers that the Stanford University study it cited also found that nearly half of charter schools perform no better than their public-school counterparts, while 37 percent "deliver learning results that are significantly worse."
That's right: The same study supporters selectively cite to tout charter schools' success rate concludes that, in aggregate, charter schools tend to perform worse than traditional public schools.
That's not to say that charters—which use taxpayer dollars to fund alternative, privately managed schools—can't work. A more nuanced look at the data suggests that charter schools have different impacts on different children, depending on their family background, with the largest educational improvements tending to come from charters that serve low-income and low-achieving students.
And that's what attracted the bill's prime sponsor in the house, Representative Eric Pettigrew (D-Seattle), amazingly, the only currently serving African American out of the 147 state representatives and senators in Olympia.
"When I look at how the schools are doing in Seattle and look at the achievement gap... there's not very much bottom-line progress being made," says Pettigrew, referring to the long-standing gap in performance between Seattle's majority white, more affluent North End public schools and the struggling schools in the more racially and economically diverse Central District and Rainier Valley communities he represents.
Pettigrew says he supports the long-term reforms that are already on the books but is "looking desperately for something that can impact students today... the kids that are in school right now."
But "desperation" is exactly how some critics describe the charter-school proposal:
"Maybe it works somewhere in the Bronx," dismisses Representative Roger Goodman (D-Kirkland), referring to some notably successful charter schools in New York City that have leveraged private contributions to offer round-the-clock social programs in an effort to level the disadvantages students face at home. "But there's not enough substantive research to justify diverting resources when we're already underfunding our schools," Goodman insists.
"This ought not to be our priority," says Goodman, "and I'm certainly not supporting it."
Rich Wood of the Washington Education Association, the union that represents the state's K–12 teachers, agrees. "It is just ridiculous that legislators would propose charter schools at the same time they're ignoring McCleary," complains Wood, referring to last month's landmark court ruling that found the state was underfunding, by billions of dollars a year, its constitutional "paramount duty... to make ample provision for the education of all children residing within its borders."
"A lot of people think it's a deliberate distraction," says Wood. He bemoans the missed chance to start a frank conversation about education funding and the need for new tax revenue. The recent court decision "is an opportunity to find a real long-term solution to the state funding problem that has plagued our schools for years," says Wood.
Even Representative Reuven Carlyle (D-Seattle), the only other Seattle legislator to stand by Pettigrew at the press conference where he announced the bill, is skeptical about charters and agrees that legislators are missing the opportunity. "The revenue problem we face is structural and foundational," says Carlyle, "and there doesn't appear to be an organized, systemic approach on how to educate the public on this issue."
But there is an alphabet soup of foundations, not-for-profits, businesses, and wealthy patrons, like those pushing Washington to become the 42nd state to authorize charter schools.
Sponsored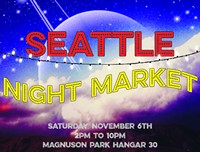 Shop, snack and booze your way through 75+ local shops & retailers. 21+ with vaxx or negative test