Ryo Izawa Operations Specialist, Samurai Noodle
Sponsored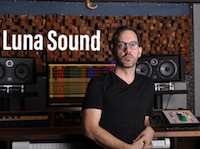 Luna Sound can cover your production, recording & mixing needs. Mention the Stranger ad for a 15% discount!
4138 University Way NE, 547-1774
So you work at Samurai Noodle, one of Seattle's most beloved ramen joints, and you're originally from Tokyo. Tell me about ramen culture in Japan.
Ramen is Japan's most popular food. Japan is only the size of Washington and Oregon combined, but we have over 30,000 ramen restaurants. Every week, there's a debate over which type of ramen is best.
What kinds of ramen did you eat when you were growing up?
All kinds. I've always liked al dente, or firm, noodles in my ramen because you can actually feel the chewy texture of the noodle.
Stereotypically, ramen is eaten by poor college students.
Our ramen is really different from Top Ramen. We steam our noodles and add broth and strips of slow-baked pork.
Why do you list nutrition information on the menu?
I want to be fair to customers. People think, "Oh, Japanese are so healthy." But pork ramen has 1,000 calories in it. It's important to be honest.
How do the Japanese stay skinny?
I think it's in our DNA.
Are you sure? Maybe it's because of Wii Fit.
Oh no, Americans work out far more than Japanese do.
Do many people order the 1,000-calorie ramen even though they know it has 1,000 calories?
Sure. Some people even come to eat here eight times a week. Ramen is very addictive.