There is no better example of what's wrong with local politics than the predicament of good-guy lobbyist Clifford Traisman. Traisman does lobbying work for a batch of liberal interests: public schools, teachers' unions, mass-transit agencies, and environmental groups such as Washington Conservation Voters—his real passion.
Sponsored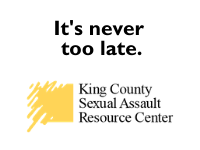 Free, confidential, inclusive support and information about sexual assault is available 24/7
"Mass transit is a perfect fit for someone like me, who's been working for clean air and the environment for years," Traisman told me this week, referring to his recent gig lobbying in Olympia for Sound Transit, which paid him $16,000 last session.
Traisman would be right—our region's mass-transit project would be a perfect fit with his environmental work—if liberals around here weren't so strongly wedded to compromise. Unfortunately, part of Traisman's job last session was hyping the joint light-rail/roads package that's going to be on the ballot this November. Instead of standing up for transit in its own right, King County leaders allowed Pierce and Snohomish County road hogs to couple our transit project with 1,500 miles of new lanes for cars.
Last week, compromising their mission statements into oblivion, environmental groups accepted a roads package that could include the controversial cross-base highway: a new four-lane highway in Pierce County [see "Green Gravitas," this page]. The $17.2 billion proposal is linked to Sound Transit, making voter support of mass transit dependent on massive roads expansion.
The carbon impact of things like the I-405 expansion ($904 million) is unknown. But the idea sure takes the glow out of Sound Transit's boast that expanding light rail will add 160,000 new riders to the system by 2030. With new roads filling up, that'll just bring us back to the status quo.
So much for Traisman's work on the environment.
I use the earnest Traisman as an example because he provides a tidy metaphor: Washington Conservation Voters spent $16,000 on Traisman this session in their fight to secure environmental protections. That's the exact same amount Sound Transit spent for his services. So, just as the $6.9 billion we'll be spending to build 1,500 new miles of roads will cancel out any good the 50 new miles in light rail will do, Traisman's work for the joint ballot measure will undo the good work he did for WCV fighting for things like carbon reduction.
I don't mean to pick on Traisman. He's got impressive environmental credentials—and this blackmail isn't his fault. Like us voters, he's a victim of liberal leaders who compromised with transit- and tax-phobic counties that had to sign off on the project list.
Traisman strongly disagrees with my assessment that his Sound Transit lobbying promoted roads expansion. But that's the whole point. Anyone who fills in the bubble for 50 new miles of light rail this November thinking they're voting for the environment is also filling in the bubble for sprawl and environmental degradation.