WEDNESDAY 5/9
SPLATINUM'S BANANAS FUTURE CRUNK
Sponsored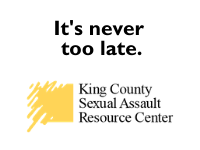 Free, confidential, inclusive support and information about sexual assault is available 24/7
Been a while since we've heard from Seattle bass-music mulchers Splatinum (Andrew Luck and Adam "Flarelight" Houghton). That's because they've been in the lab concocting new tracks. The only new cut we've been able to access since their boisterous future-crunk EP Banana Sandwiches from 2011 is a thug-beated cover of Danzig's "Am I Demon." It reveals a heretofore-unknown metal side to Splatinum's extroverted dance-music arsenal. Go to www.splatinum.com for an aural ass-whoopin'. Highline, 9 pm, free, 21+.
SATURDAY 5/12
DUBSTEP DON BASSNECTAR BLOWS UP
Damn, Bassnectar has sure blown up. After a decade of hard grinding, he's now headlining WaMu, collaborating with Lupe Fiasco for his new album, Vava Voom, and playing massive festivals such as Coachella, Bonnaroo, Lollapalooza, and Electric Daisy Carnival. The San Francisco producer (aka Lorin Ashton) is bringing song-based chops and exciting, mega-warped dynamics (see "Ping Pong") to dubstep's typically turgid low-end wallop and foundation-shaking beats, and lots of people are pumping fists (and other body parts) to it. However, we don't need his "Pennywise Tribute." With Ghostland Observatory, VibeSquaD, and Mr. Projectile. WaMu Theatre, 7 pm, $36, all ages.
UK ENIGMAS DEMDIKE STARE HAUNT PSYCHIC CIRCLE FEST
Organized by the Actual Pain and Second Sight crews, the Psychic Circle festival—which spotlights tenebrous, atmospheric, and sometimes danceable electronic music—debuts this year with an auspicious headliner: Demdike Stare. The prolific English duo (Sean Canty of the impeccable FindersKeepers label and Miles Whittaker of Pendle Coven) has ascended to the summit of the hauntological-music scene with tracks that subtly seep into your bloodstream and stir uneasy, unfathomable feelings. Combining elements of dub, European horror-film soundtracks, and minimal techno, Demdike Stare put the "ill" in "chill" and create some of the most engrossing and beautifully strange music in the world right now. You might like it. With A Story of Rats, Tropic of Cancer, and S4NTA_MU3RTE. Black Lodge, 10 pm, $10.
MONDAY 5/14
RAMMSTEIN? ROFL!
Like a more ham-fisted Laibach, Rammstein are hard to take seriously, because they seem so gott-damned serious. The German group have been dropping ridiculous electronic-dance-music anvils on heads for 17 years, and this tour celebrates their best-of retrospective, Made in Germany: 1995–2011. Often rhythmically rigid and melodically maudlin, Rammstein's Sturm und Drangtronica is a bloody contradiction that wants to leave you bloody. Vocalist Till Lindemann's stentorian declamations are to LOL for, though. Rammstein are very good at what they do; I'm just not sure that what they do ought to be done. Tacoma Dome, 8 pm, $39.50–$79.50, all ages.