WEDNESDAY 6/5
ROMAN FLÜGEL TAKES TECHNO EIGHT MILES HIGH
Yes! On short notice, High & Tight promoters secured Roman Flügel, half of hugely clever rave-anthem machine Alter Ego, brain behind the ingenious IDM/techno hybrids of Eight Miles High, and the mastermind of rampantly surging techno under his own name. (Check out his work as Soylent Green and Ro 70 for more electronic mischief-making.) No matter the alias, Flügel rüles. The notion that Germans make the planet's most advanced techno is commonplace for a reason: It's largely true. Flügel is yet another example of Deutschland's mastery of the form. With Tyler Morrison and Ctrl_Alt_Dlt. Re-bar, 9 pm, $10 adv/$15 DOS/$5 with student ID, 21+.
OOOOO'S GAUZY GOTH-HOP, GROUNDISLAVA'S EIGHT-BIT GLITCH TUNES
Not gonna lie: I'm still sore at oOoOO (San Francisco producer Christopher Greenspan) for walking off the Crocodile's stage at the 2011 Decibel Festival about 30 minutes into his set. (Apparently he was miffed he couldn't smoke in the building. Worst excuse for a tantrum ever.) But let's let bygones be bygones—oOoOO's music is too shiver inducing to hold a grudge against the cat forever. On releases like oOoOO and Our Love Is Hurting Us, oOoOO submerges triphop in a vat of molasses and then mists magic gothic atmospherics over the luxuriously leaden rhythms, with surplus beautification coming from the diaphanous female vocals by one Butterclock. For a lot of young people (and maybe even some middle-aged ones), these songs will trigger secksy impulses. Groundislava (LA beatmaker Jasper Patterson) creates bass-centric music that slants off of glitchhop and eight-bit into some dreamy and queasy paradisiacal realms. It's as if Straight Outta Compton never existed. El Corazón, 8 pm, $10 adv/$12 DOS, all ages.
FRIDAY 6/7
CUT HANDS, BLACK RAIN: THE DARKEST DANCE MUSIC EVER?
Everyone who missed Cut Hands (English gentleman William Bennett, of extreme-chaos ranters Whitehouse) destroy at Decibel last year can make amends tonight. Don't blow it. With Cut Hands, Bennett opts for a raw, brutalist rhythmic approach that borrows—some say too heavy-handedly—from vaudou and Central African sources and disperses scarifying textures over them. It's some of the most harrowing, intense dance music going (imagine eight scare quotes around dance music). Opening are Black Rain, a New York City duo featuring Stuart Argabright of post-punk iconoclasts Ike Yard, hiphop mavericks Death Comet Crew, deviant disco unit Dominatrix, and other envelope-shredders. Now with Shinichi Shimokawa, Argabright takes Black Rain into postindustrial desolation and devastation that updates his Ike Yard sound. It's apt that their label is Blackest Ever Black. With SH6RL6S6 and Actual Pain. Chop Suey, 9 pm, $15 adv, 21+.
Sponsored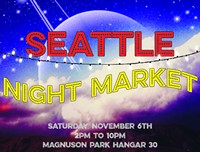 Shop, snack and booze your way through 75+ local shops & retailers. 21+ with vaxx or negative test