The second week of this monthlong celebration of the rapper, actor, entrepreneur, and pee-wee football coach Snoop Dogg (who recently changed his name to Snoop Lion) brings John Singleton's Baby Boy. In this movie, you will see a scene that captures the essence of Snoop Dogg and, as a consequence, expresses the spirit of this retrospective (which also includes forthcoming screenings of the comedies Whiteboyz and Half Baked). The Baby Boy scene happens like this: A young woman, Yvette (Taraji P. Henson), walks into a candlelit living room and finds her ex-boyfriend Rodney (Snoop Dogg) blissfully smoking a blunt. An exasperated Yvette: "What up, nigga, who told you to light my candles? You trippin'." Rodney, exhaling a thick cloud of ganja smoke: "Hush, mama, I'm trying to set the mode up in here." She is not pleased with this response and blows out the candles. Though Rodney is a total bastard (in a different scene, he tries to rape Yvette in front of her son; in another, he tries to kill the father of Yvette's son), we recognize that the man on that couch is not bad or good. He is just Snoop Dogg being Snoop Dogg.
When, in another scene, Rodney jumps up from the couch and rages about how Yvette's babydaddy, Jody (Tyrese Gibson), is disrespecting him, the man of the house, the man who is trying to get Yvette pregnant, the man who has done some hard time and can pop a nigga in the ass—the Snoop in this scene is definitely acting. The real Snoop would never get all worked up like that. The real Snoop would never jump up from a couch for anything.
The Man Behind the Smoke: A Snoop Dogg Retrospective runs Monday evenings through June 24 at King's Hardware, 5225 Ballard Ave NW.
Got a film festival you want us to write about? E-mail festive@thestranger.com.
Sponsored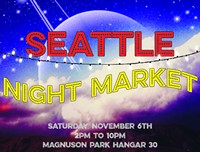 Shop, snack and booze your way through 75+ local shops & retailers. 21+ with vaxx or negative test