TRUCKASAURAS @ THE COMET
Sponsored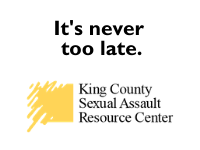 Free, confidential, inclusive support and information about sexual assault is available 24/7
It's hard to believe Truckasauras still haven't been signed, or that they haven't put out a proper record yet. More than perhaps any electronic act in Seattle, these guys have crossover potential written all over them. Their songs are catchy, their 8-bit sounds are instantly familiar, their visuals are a gag, and they can kill a set between German DJs at Decibel just as easily as they can at a rock show (or in a parking lot for that matter).
On Friday at the Comet, the band set up with live drums instead of their usual old-school combo of a Roland 808 and a LinnDrum. Tyler Swan—sans American flag cape—manned the drum kit, playing loose breaks instead of the Truck's usual rhythm programs, occasionally breaking into pounding, flailing fills. Adam Swan played synths and delay, Ryan Trudell thumbed at his Game Boy sequencer, and Dan Bordon mixed live video, adding quite a few new clips since their last show. Trudell also put the Game Boy down from time to time to play with another cheap toy—a drum mic jammed straight into the side of a Boss Metal Zone pedal. Trudell mouthed into the mic to produce a wordless, distorted squeal, twisting the pedal's knobs to control the frequency and tone. Some people might find it hard to accept that this is as close as the band comes to having a lead singer, but they're fine without one, and some adventurous label should see that and jump all over these guys.
FOALS, THE HEAVENLY STATES, SLEEPY EYES @ CHOP SUEY
Some adventurous label like Sub Pop, maybe? The local über-indie is currently observing its alleged 20th anniversary, and so far it seems to be celebrating mostly by flying overhyped Brits out to Seattle for vaguely defined purposes (hi, Everett). On Saturday, the label brought out young Oxford band, self-proclaimed "snotty art-school dropouts," and recent Sub Pop signees Foals for a free show at Chop Suey.
"We've been out here for a few days," said lead singer Yannis Philippakis between songs. "It's nice. It's green, it's wet—it's like England, but with friendlier people."
The band—a quintet of pale, skinny, indistinct dudes—put on a good debut show, flailing and jerking their guitars in time with their twitchy, nervous dance punk, confirming comparisons to fellow Brits Bloc Party and sadly defunct D.C. band Black Eyes. When Foals lock into a solid groove, as on lead single "Hummer" or "Balloon," they're quite compelling, but so far they lack the anthemic, sing-along choruses of either of the aforementioned bands. They're a good show, but you'd be hard-pressed to remember a lyric on the walk home.
Which is still better than opening band the Heavenly States, from Oakland. At their very best, on the truly catchy opening song "Morning Exercise" from their forthcoming Delayer, the band sound like a cross between the Promise Ring's repetitious pop and Archers of Loaf's raw-throated emotion. Too often elsewhere, though, the band sound like a weak Everclear or an indie-rock John Cougar Mellencamp, right down to the inexplicable fiddle. Even worse was the lead singer's weird, overconfident banter, which was less affable and funny than it was cheesy.
Openers Sleepy Eyes of Death lack any banter whatsoever—their smoke and color-lit stage goes dark and silent between songs—but they make up for it with a fairly hypnotic live show. For all the talk about how visual Sleepy Eyes are, I can't help but think that all the smoke and backlighting is almost antivisual, as it completely obscures the band for most of their show, forcing the audience to concentrate instead on the actual music—the slow, sweeping synths, the Moroder-worthy arpeggios, the processed guitar, the big, live drums—behind the slowly shifting fog. When the smoke clears a bit toward the end of their set, you see a band rocking out harder than their ambience would suggest, banging on the drums, swinging a guitar through the smoke, nodding hard into their keyboards.
NEUROSIS @ NEUMO'S
Everybody throws around words like "brutal," "punishing," and other S&M jargon to describe Neurosis, and, yes, they're very loud, and they have their truly metal moments. But Neurosis's dark, slow-churning, ambient metal is as pretty and groovy as it is pummeling (I say this despite the fact that Neurosis look like the kind of band who might punch you for calling them "pretty"). Their show at Neumo's on Sunday was trance inducing, the band's slow-motion film of explosions and wilting flowers combining with the humid heat of the packed room to make it feel like some sweat-lodge vision quest. Epic is a word we can all agree on.
Truckasauras and Sleepy Eyes of Death play The Stranger's Young Ones showcase, a benefit for Real Change, Thurs March 6 at Neumo's and Sole Repair, 8 pm, $5, 21+. For more about the Young Ones, go to www.thestranger.com/youngones.