The 38th annual Seattle International Film Festival kicks off next Thursday, May 17, with an opening night gala screening of Lynn Shelton's (recommended!) Your Sister's Sister and continues through June 10. The full SIFF schedule and tickets can be found online (see www.siff.net), and The Stranger's review-packed guide hits the streets next week. In the meantime, here are a few films we've already watched previews of and think you're going to love.
Sponsored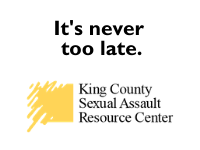 Free, confidential, inclusive support and information about sexual assault is available 24/7
Bestiaire
Had Warhol devoted one of his late-'60s Factory films to zoo animals, the result would look something like Bestiaire, a Canadian documentary that takes an artful look at the animal kingdom and those who look at the animal kingdom (zoogoers, taxidermists).
Otelo Burning
The glories of surfing contend with the horrors of apartheid in this South African drama that's "a little like a child-actor mashup of Othello and Point Break," according to The Stranger's Cienna Madrid, "only 1,000 times better than what you're imagining."
Safety Not Guaranteed
The indie rom-com and Sundance hit about a would-be time traveler and the Seattle journalists sent to investigate him, starring the entrancing Aubrey Plaza and the always-good Mark Duplass.
We Are Legion: The Story of the Hacktivists
A delightful documentary about the history of hacking, from Steve Jobs to Anonymous to 4chan and beyond. Go for the lulz, stay for the history lesson.
Wonder Women! The Untold Story of American Superheroines
This charming documentary is just what it says it is, featuring talking-head input from such feminist icons as Gloria Steinem and Kathleen Hanna.
Your Sister's Sister
Lynn Shelton's latest release is the first film by a Seattleite ever to be chosen as SIFF's opening-night feature. It's also a perfectly lovely story of love, loss, accidents, friendships, and, most interestingly, sisterhood.