Description: A pleasant Ballard bar, resting in a century-old building with pretty brick walls and a lofty ceiling. Boat-themed whatnots—from photos and models to actual paddles and helms—are everywhere, but the effect stays fun, not gimmicky.
What else: An antique rowing shell hangs above the entrance. Huge and fragile, the boat was a tremendous hassle to install. It's flipped to showcase a view of empty seats and foot straps—all so bare and still, with no team of upside-down rowers to fill them. A regular claims the boat was raced in the 1936 Olympics and bartenders back him, but, like most thrilling stories, too many details remain unclear. (For instance, how and why it ended up here.)
Happy-hour drink specials: Daily 4–7 pm and Sun–Thurs 11 pm–close. With $2.25 PBR; $3 wells, wine, and micros (rotating selection may include Dottie's Seattle Lager, Odin's Gift Ruby); $3.75 Guinness.
Happy-hour food specials: A $4.75 snack menu, including a couple of well-regarded barbecue items (sliders, smokehouse wings).
Sponsored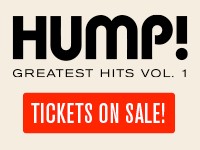 What are YOUR favorite HUMP! films? Start with HUMP! Greatest Hits, Volume One! Relive the memories!