In a world of biopics devoted to disingenuously illustrating well-known legends that march past like Wikipedia pages brought to life, Sam Taylor-Wood's Nowhere Boy is a rarity: a film about a world-renowned superstar that forsakes facile summary to illuminate something new. Her film's subject is John Lennon, or, more appropriately, the young man who would become John Lennon. The film finds him mired in a late-adolescence lorded over by two women: his reliably devoted Aunt Mimi (with whom he lives) and his distant, mysterious mother, Julia, whom he tracks down to instigate the twisty friendship that fuels the movie.
With a background in conceptual and visual art, Taylor-Wood grounds her first feature film in a small, workmanlike specificity, exploring its tightly restricted time span with a natural lyricism. Late-1950s Liverpool is captured in all of its antiromantic sogginess, and Taylor-Wood lights up the drudgery with subtle, life-size performances. As John, Aaron Johnson does right, rejecting Lennonesque mannerisms and spiritual foreknowledge of the future to devote himself to the drama at hand—his self-willed reconciliation with the mother who left him, a kaleidoscope of a woman who blazes into his life as a friend, mentor, and irresistible new crush. As Lennon's legendary mother Julia (see "Mother," "Julia"), Anne-Marie Duff underscores her character's happy-face bravado with the proper tinge of mania and compulsion, and as the monolithic Aunt Mimi, Kristen Scott Thomas gives a performance that should win awards. Tasked with inhabiting the classic British character of the dutiful stoic, Thomas burns deep and bright, exemplifying the careful artistry that makes Nowhere Boy so special. Drained of all winking portent, even the late-coming scenes of the budding friendship between Lennon and Paul McCartney are genuinely affecting, securing Nowhere Boy's stature as a biopic that film lovers will appreciate as much as fans.
Sponsored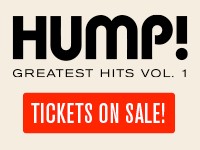 What are YOUR favorite HUMP! films? Start with HUMP! Greatest Hits, Volume One! Relive the memories!