With the New New, XXL tries to spotlight burgeoning acts who we feel haven't gotten the shine they deserve, but what makes this edition special is that we feel the entire city of Seattle hasn't gotten the attention it deserves. —XXL
By the time you read this, XXL's "The New New: 15 Seattle Rappers You Should Know" article will be a week and a half old, an eternity in 2013, but it will still be getting examined—in barbershops, in studios, on social media. These kinds of lists don't intrinsically mean shit, but the change in how our city's hiphop is being perceived does mean something, so it's worth examining. First and foremost: The article in question—and a lot of other attention that this town's hiphop is seeing right now—is purely because one of last year's Freshmen went on to break sales records and become a full-stop pop phenomenon. Not saying that all of the shine Seattle rap is seeing right now is due to Macklemore & Ryan Lewis—there's a solid, brilliant handful of artists from here working regularly on the national level at this point—but you'd have to be a dangerously delusional person to deny M&RL's deep impact (no Elijah Wood) on the pop landscape at this moment in time. Which in turn makes even more people wonder what's in the water over here, hence the list.
That list, in alphabetical order: Avatar Darko, Black Stax, Brothers from Another, Champagne Champagne, Eighty4Fly, Fatal Lucciauno, Fresh Espresso, J. Pinder, Jarv Dee, Kung Foo Grip, Mack E, Nacho Picasso, Sam Lachow, Shelton Harris, Sol, and Thaddeus David. Of course there were folks they missed—huge omissions that I'll leave you to fill in—but it's apparent to me that the folks at the magazine tried to deliver a balanced and viable roll call of folks to be checking for in our scene. You got the whole spectrum, style, and age represented: from the fresh-faced college-kid stuff, to so-called hipster shit, to street shit (both original recipe gangsta shit and druggy demonry), to mainstream radio rap, to the soulful veterans, and every shade and degree in between. Let me tell you, that's not easy for half the people who write about music in Seattle to pull off, let alone in New York. There are rappers I've fiercely advocated for in the face of local hate and indifference (Avatar and Fatal), there's one I work with because I believe in his talents (Jarv Dee), there are folks I already pegged as sure to inherit some of the wind from Mack's victory laps (Sol, Shelton Harris, and Sam Lachow). They even had a local rapper I've never heard of before, which, I'm sorry, is no mean feat: Mack E, the list's "bonus pick." I think I wrote about his group L.A.C.O.S.A. being on a show once in the last year, but I hadn't heard any of his stuff, which you can peep at macke.bandcamp.com.
Somebody close to me said it, so blame them for the hyperbole, but it stuck with me: I think it's cool that we can have an Elvis, and a Miles, and whatever else we want, all rocking and coming out of a scene and a city our size—this is not something that makes me angry, this makes me incredibly excited. This is what we wanted, right?
Sponsored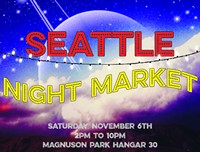 Shop, snack and booze your way through 75+ local shops & retailers. 21+ with vaxx or negative test