People stopped suing over being called a "pharisee"—a term meaning a sanctimonious and hypocritical person—in the early 20th century. And even in the most recent case, which took place in Iowa in 1922, the judge ruled the term wasn't defamatory.
But Bernadine Dochnahl, a board member of the Renton Community Foundation and an influential player in the city's development, took issue with the insult when antidevelopment gadfly Inez Somerville Petersen used the archaic word to slam her.
"What a haughty and proud pharisee she is," Petersen wrote on her blog in April 2007 in response to a gushing profile of Dochnahl in Renton Magazine. In addition, Petersen sent several letters to the editor of the Renton Reporter, criticizing a mall development that Dochnahl supported.
In retaliation, Dochnahl and her husband, Dennis Dochnahl, sued Petersen in King County Superior Court for "false, vindictive, malicious, and defamatory statements" and "intentional infliction of emotional distress."
The overheated allegations against Petersen arose from a clash of visions for the Renton Highlands, a 120-acre neighborhood built as temporary housing for Boeing workers during World War II. After the war ended, the wood-frame duplexes and small apartments deteriorated noticeably. The upside: The neighborhood remained one of the most affordable in the area.
"That was the last bastion of low-income housing in [Renton]," says Petersen, who has lived near the Highlands for more than 60 years.
However, in 2005, the city began considering ways to revitalize the dilapidated area. One of the options: declare the neighborhood blighted and condemn every home. The project—if the city had condemned the area—would have replaced all the buildings in the Highlands with new mixed-income housing, similar to High Point in West Seattle.
"It's hard to transform a neighborhood unless you can transform all of it," says Alex Pietsch, administrator of Renton's Department of Community & Economic Development. "The incremental transformation of this neighborhood would take too long for the private sector to do on its own."
When Petersen—who, she says, has "all of [her] social network in the Highlands"—discovered the council was considering condemnation, she amassed a vocal group of neighbors and launched a crusade against the revitalization project.
Petersen filed an appeal to delay the Renton City Council from adopting a policy that would allow it to declare the neighborhood blighted and redevelop it in one fell swoop. (She also participated in an antidevelopment lawsuit against the city and filed voluminous public records requests.)
"Neighbors latched on to the idea that the neighborhood could have been designated for condemnation," says Pietsch, who notes the city was considering it as only one of several options. "But Ms. Petersen stirred up enough controversy that the council backed away from the proposal." The council eventually decided instead to give developers financial incentives to build new mixed-income housing in the area.
But while the council considered its options, Dochnahl and Petersen squabbled. In September 2006, Dochnahl told members of the Renton City Council that Petersen "has devoted the past 10 to 15 years to criticiz[ing] all elected officials who refuse to bow down to her silly rants." Adding, "Her only real accomplishment has been raising fear and discontent."
In 2007, two months after Petersen called Bernie Dochnahl a "pharisee," the Dochnahls filed their defamation lawsuit, arguing that the court should require Petersen to pay for damages and court fees. The couple also moved to seize Petersen's computer.
However, in late February 2009, King County Superior Court judge Laura Gene Middaugh determined the Dochnahls' suit was "frivolous," and that while Petersen's statements were "clearly not flattering opinions about the plaintiffs... they are also clearly opinions." She added, "Calling someone a 'pharisee' is not grounds for a suit."
Judge Middaugh also required the Dochnahls' attorney, Robert Green, to reimburse Petersen's counsel, the Buck Law Group, $75,000 in attorney fees.
The lawsuit resembled a SLAPP—a "strategic lawsuit against public participation"—according to Petersen attorney Peter Buck. Historically, the suits are filed to keep persnickety citizens, who generally can't afford attorneys, from tangling in the business of big business and government. But did this lawsuit keep Petersen out of the city's hair? Sort of—she left town, moving temporarily to Ann Arbor, Michigan. But like Obi-Wan Kenobi, she plans to return more powerful than ever.
"The chilling effect of these kind of lawsuits is real," Petersen says. "But I'm atypical; it made me stronger." At 64 years old, Petersen, a Mormon, is attending Ave Maria School of Law and plans to return to Renton as a land-use lawyer. "When I do become an attorney, I am going to be working for the people who had no way to get help when they needed it."
Sponsored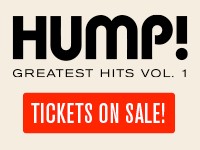 What are YOUR favorite HUMP! films? Start with HUMP! Greatest Hits, Volume One! Relive the memories!