Fair or not, the success of a movement is gauged by its ability to win the hearts and minds of mainstream Americans. And that means hammering home a message that people can understand. For Occupy Wall Street—often criticized for its vague agenda—it wins by keeping up a relentless drumbeat about how banks and the wealthiest Americans have profited while the standard of living has atrophied for America's middle class (something everybody understands). By that metric: Occupy Seattle had a banner week. But it wasn't by accident. And it wasn't without sacrifice.
Here's how they did it:
Targeting the right people: Protesters formed a human chain outside the Sheraton Hotel when JPMorgan Chase CEO Jamie Dimon came to speak on November 2 at a "Business Leadership Celebration." Cops pepper-sprayed demonstrators with abandon, the protesters created a clinic to wash out their eyes, and the whole event led the front page of the Seattle Times and every other news outlet in town. It was all about targeting Dimon, who was at the epicenter of the financial collapse that cost millions of American jobs, but who still has a net worth of between $300 million and $3 billion.
Picking the right backdrop: Hours before Occupy Seattle targeted Dimon, five protesters walked into the Chase bank on Broadway and, in the bank lobby, chained their arms together between lengths of PVC piping. Nearly 100 protesters and three dozen cops faced off in a street battle, while demonstrators attempted to block a paddy wagon from leaving the scene. Six people were arrested. The backdrop to the news coverage? A giant blue Chase bank logo.
Events for people who don't want to get pepper-sprayed: Bank Transfer Day, on November 5, featured withdrawals from national financial giants and new accounts at credit unions. The fun kicked off in Seattle with city council member Mike O'Brien joining Verity Credit Union in Wallingford, while a crowd (half with silver hair) swarmed around the Bank of America branch in Westlake Park as folks walked in and closed their accounts. While some of the recent Occupy protests have been mired in internal politics, these demonstrations attracted lots of TV cameras catching the totally on-point, completely comprehensible message. Also popular: Lots of media reports about various economic experts and professors holding teach-ins.
Support from City Hall: November 7 brought a pro–Occupy Wall Street resolution before the Seattle City Council that, among other things, calls on the city to "ensure that public funds are invested in responsible financial institutions that support our community" and rethink campaign financing for city elections. Sponsored by Council Member Nick Licata, the measure is expected to pass on November 14.
Keep changing the tactics: Occupy found new ways to get attention, making hit after hit with the mainstream media and setting it all to frames that reinforced their message. If Occupy Wall Street can keep up orchestrated events like these—even half as often—public support will keep growing, and the movement can sustain itself indefinitely.
Sponsored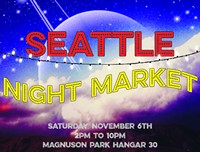 Shop, snack and booze your way through 75+ local shops & retailers. 21+ with vaxx or negative test