Friday, June 8, was the filing deadline for this year's city council races. Five of the nine council members are up for reelection; however, no one is challenging incumbent Tom Rasmussen, and incumbent Sally Clark has only drawn oddballs and also-rans. Incumbent David Della faces a serious challenge, while Jean Godden may be surprised by a persistent Green. The most interesting race, though, is the battle for the open seat currently held by Peter Steinbrueck, who is bailing on the council after 10 years. That race stars a South End mom, a Chamber of Commerce favorite, and a cranky former mayoral wannabe. In preparation for the August 21 primary, The Stranger news squad has compiled a handy roundup of vital stats on the candidates.
Sponsored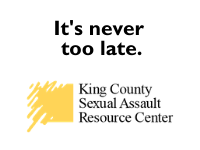 Free, confidential, inclusive support and information about sexual assault is available 24/7
Position 1
Candidate (incumbent): Jean Godden Money raised: $156,029 How she sees herself: The grande dame of the city council. How we see her: The grande dame of the city council. Notable contributor: Celeb chef Tom Douglas, whose company kicked in $1,400 in catering expenses for her kickoff. Curious expenditure: $25,000 for the city's most expensive political consultant, Cathy Allen. Notable endorsements: Every member of the Seattle City Council—except council president Nick Licata.
Candidate: Joe Szwaja Money raised: $20,121 How he sees himself: An independent green voice on the council who "survived some difficult emotional and financial times," including injuring his girlfriend with a plate. How we see him: The guy who ran against Jim McDermott. Notable contributor: Seattle School Board member Brita Butler-Wall. Notable endorsement: Hotshot consultant Jason Bennett.
Also-rans: Rosebud restaurant owner (and Stephen Sondheim relative) Robert Sondheim, who applied for the open seat eventually taken by Sally Clark in 2005; FlexPass sales manager Lauren Briel.
Position 3
Candidate: Bruce Harrell Money raised: $96,999 How he sees himself: An advocate for taxpayers and small businesses. How we see him: The business community's horse in the Steinbrueck race. Notable contributor: $600 in cash from controversial former NAACP head Alfoster Garrett, who later paid Harrell with a check. Curious expenditure: $4,000 to consultants Fifty Plus One, which he ultimately dumped in favor of Northwest Passage; also $805 for "Slim Jims and stationery." Notable endorsement: Controversial Port of Seattle commissioner Pat Davis; the Seattle Chamber of Commerce's political arm, the Alki Foundation.
Candidate: Al Runte Money raised: None so far. How he sees himself: Seattle's only hope. How we see him: The nutty (former) professor. Notable endorsements: None so far, but the Seattle Weekly endorsed him for mayor in 2005.
Candidate: Venus Velázquez
Money raised: $78,112 How she sees herself: An impolitic loudmouth who's willing to tell it like it is. How we see her: Shaking hands at every political event. Notable contributor: $1,050 from employees of payday-loan company MoneyTree, including president David Bassford. Notable endorsements: Position 3 incumbent Peter Steinbrueck; state Representative Eric Pettigrew, whose endorsement Velázquez's opponent Bruce Harrell also claims.
Also-rans: Scott Feldman, who wants to keep the Sonics in Seattle; former council member John Manning, who resigned amid domestic-violence allegations in 1996.
Position 5
Candidate (incumbent): Tom Rasmussen Money raised: $180,316 How he sees himself: Champion of the poor and elderly. How we see him: Takes on unsexy but important yeoman's work. Curious expenditure: Customized M&M's, $60. Notable endorsement: Former Stranger scribe Sandeep Kaushik!
Position 7
Candidate: Tim Burgess Money raised: $130,907 How he sees himself: Progressive former journalist with impeccable ethical credentials. How we see him: An alternative to David Della. Notable contributor: The candidate himself, who has contributed $7,600 to his own campaign. Notable endorsements: Chuck Ayers of Cascade Bicycle Club; Barbara Culp of the Bicycle Alliance of Washington.
Candidate (incumbent): David Della Money raised: $143,483 How he sees himself: A voice for the working class on the council. How we see him: A holdout for rebuilding the viaduct at any cost. Notable contributor: Developer and electric-bill delinquent Martin Selig, who gave $700. Notable endorsement: Former city attorney Mark Sidran.
Position 9
Candidate (incumbent): Sally Clark Money raised: $110,624 How she sees herself: A thoughtful consensus builder. How we see her: Middle-of-the-road, and lucky that a more serious candidate isn't taking her on. Notable contributor: Position 7 candidate Tim Burgess, who gave her $700. Notable endorsement: Seattle's 'mo magazine.
Also-rans: Retired Seattle firefighter Bob Brown; food concessionaire Judy Fenton, who wants to raze a naked statue in Olympic Sculpture Park; perennial know-it-all Stan Lippmann.