• Is alleged Seattle superhero Phoenix Jones an enemy of the truth? Jones publicly denied pepper-spraying a crowd of people during tense May Day protests downtown—even as numerous red-eyed victims identified him as their trigger-happy tormentor. Now, bloggy (but at this point anonymous) sources say Jones was overheard bragging about the pepper-spraying at a local comic-book store.
Sponsored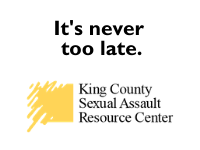 Free, confidential, inclusive support and information about sexual assault is available 24/7
• Mayors from 48 cities have joined Seattle mayor Mike McGinn in demanding that Village Voice Media require identification from people posting escort ads on its website, Backpage.com, in order to curb the sexual exploitation of children. Since 2010, Seattle police have recovered 24 minors advertised on Backpage.com—two within the past two months.
• Speaking of compelling arguments against Backpage.com, state senator Jeanne Kohl-Welles hit back on May 7 at the site's contention that it aids police in capturing sexual predators. "That's like having a pimp saying he's a guardian or protector of a minor," she said. "It's crazy."
• On May 1, the City of Seattle filed a motion asking a federal judge to dismiss a civil lawsuit against a Seattle police officer who in 2010 was recorded threatening to beat the "Mexican piss" out of a Latino suspect. The city argues that the language was not meant as a racial slur, but rather to get the suspect to quickly comply with an ongoing robbery investigation. Just like, you know, if the city was telling presiding judge Ricardo S. Martinez to pull the beans out of his ears and rule on this matter ASAP.
• Jay Inslee, criticized by pundits for running a lackluster campaign, held a rally with DNC chair Debbie Wasserman Schultz before 800 cheering supporters on May 3. You might not have heard about it, because virtually no media bothered to show up. But don't worry, the Times was there: the Seattle Emerald Chinese Times.
• Seven and a half years into her eight-year regime, Governor Chris Gregoire on May 2 finally acknowledged that we need to raise taxes to fund education. A profile in courage!
• Is John Koster too extreme even for the Republican leadership? The Tea Party candidate from the 1st District, who happens to be the only GOPer running in a competitive congressional race in this state, will be snubbed again later this month when House Speaker John Boehner flies out for a $1,000-a-plate fundraiser for incumbent representative Jaime Herrera Beutler in the 3rd District. Last week, Koster was brushed off by House majority leader Eric Cantor when he was in town to raise money for Representative Dave Reichert, who is in the race of his life in the 8th District (in the sense that this is the first race of Reichert's life in which he is perfectly safe).
• "You're on, motherfucker," responded sex advice columnist Dan Savage to a May 4 Bible-off challenge issued by the National Organization for Marriage's anti-gay president, Brian Brown. Time and place? Stay tuned.