• Carl Winter, the leader of the group Reasonable Density Seattle and a resident of Capitol Hill, has been campaigning to stop the construction of dozens of microhousing buildings—a style of housing that involves a shared kitchen and rents that are affordable to working-class tenants. Frustrated by the influx of renters and the lack of public notice about the projects, Winter told Reuters, "I'm living the nightmare." Winter is officially the city's biggest baby throwing the city's most classist tantrum.
• Mike Hope, the retired-cop-turned-personal-trainer-slash-state-representative (R-Everett), has added another notch to his employment belt: actor. Hope scored his own IMDb page (and YOW, what a page!) for being cast as the shirtless, hairless "Officer O'Connor" in the film Vampire Soul: Hidden in Plain Sight.
• Thanks to state senate Republicans' refusal to fix a technical error in Washington State's estate tax, the Department of Revenue will start processing $50 million in refunds this week to families who inherited non-farm estates worth more than $2 million. "Once we issue refunds, the state will not be able to recover that money even if the legislature passes an estate tax fix," says DOR spokesman Mike Gowrylow. Total losses—all targeted to education spending—could exceed $160 million through 2015, making for some very happy rich people.
• On Monday, June 3, Mayor Mike McGinn announced his intentions to build a streetcar through downtown Seattle to connect the First Hill Streetcar to the South Lake Union Streetcar. By 2030, city officials estimate that transit will need to carry an additional 8,000 people per hour into downtown during morning commutes, which amounts to about 10 four-car streetcars or 150 new buses.
• Ten women's and civil rights organizations, led by the ACLU of Washington, called on Governor Jay Inslee on May 31 to enact an immediate six-month moratorium on all proposed or pending Catholic hospital merger decisions in the state, mergers that could severely impact gay and lesbian patients and restrict access to abortion and end-of-life care. In response, Inslee's office says that he "remains very concerned" about the issue and has asked his staff to look into "all available options—including a moratorium."
• At the mayoral candidates' forum on arts and culture at Town Hall on Monday night, neighborhood activist Kate Martin revealed her insane plan for what to do with KeyArena. "I do think the acoustics are really special at the Key," Martin said, suggesting that we turn it into a dedicated world-class concert hall called "The Queen Anne." Nowhere in the universe could the acoustics at Key Arena be considered "special" in a good way.
Sponsored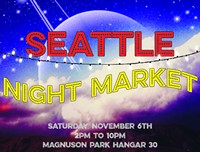 Shop, snack and booze your way through 75+ local shops & retailers. 21+ with vaxx or negative test