SEATTLE SYMPHONY
Benaroya Hall unless otherwise noted: 200 University St, 215-4700, seattlesymphony.org
Seattle Pops: A Night at the Cotton Club (June 6–9): A musical tribute—including tap dancing—to the Harlem jazz club that operated from 1923 to 1940.
Britten's War Requiem (June 13, 15): This is one of the season's highlights, a piece not performed by the Symphony in decades, conducted by Ludovic Morlot and featuring guests Seattle Pro Musica, the Northwest Boychoir, Seattle Symphony Chorale, and a full array of soloists.
Shostakovich's Violin Concerto No. 1 and the World Premiere of Become Ocean (June 20–23): Seattle Symphony commissioned a new work by Alaska-based ecological composer John Luther Adams, inspired by the waters of the Northwest. It's his first long work for orchestra, running at around 45 minutes, and it's something the Symphony will be taking to Carnegie Hall next season—hear it first!
Saint-Saëns's Organ Symphony (June 27–30): The "mighty," plus pieces by Wagner.
Cirque de la Symphonie with the Seattle Symphony (July 12–13): Contortionists, jugglers, and aerial artists do their thing to classical music performed by a chamber-sized orchestra of Symphony players.
SEATTLE OPERA
McCaw Hall unless otherwise noted: 321 Mercer St, 733-9725, seattleopera.org
The Ring (Aug 4–25): It is hilarious that I am presenting Wagner's Ring to you in a blurb. It is the anti-blurbiest anti-blurb of all time. For beginners, the simplest way to put it is that it's four operas that tell one epic story: Das Rheingold (the gold of the Rhine), Die Walküre (the Valkyries), Siegfried (a hero born of incest who goes on to slay a dragon), and Götterdämmerung (the twilight of the gods, when Valhalla burns down, the gold of the ring is purified, and order is restored to the Nordic, Nordic universe). The operas are hours and hours long: To experience the whole outsize thing is an achievement and an experiment, and by the end of it, you have a memory bank that's wild and woolly, and then your life starts over again, and sometimes little parts of The Ring show up in your dreams. Seattle Opera is known for its Ring; this was one of the earliest American companies to start doing full cycles, and they've become fetish events. People travel from afar to come to this. They attend tech talks and preperformance lectures and after-curtain Q&As, and sympooooohsia. Indulgent doesn't begin to describe it. This particular production—created more than a decade ago, all woodsy and "naturalistic" and PNW-y (even the theatrical nature of this set is overweening—on its very first opening night, I watched as a singer tumbled all the way across the stage and very nearly into the orchestra pit)—is probably about to be retired after this summer for a new concept. Most humans will not do this thing. But if any part of you is wondering whether you should go, and if you have the means, I say go for it. You can trust Seattle Opera, and with The Ring, you always know what you're getting: high S/M with a side of gods.
WAYWARD MUSIC SERIES
Good Shepherd Center's Chapel Performance Space, 4649 Sunnyside Ave N, fourth floor, waywardmusic.blogspot.com
Leslie Ross (June 6): New York bassoonist who builds instruments that look like machines about to go haywire.
Creative Drum Night (June 14): Four of "Seattle's most adventurous percussionists play solos and then a quartet," hosted by drummer Don Berman.
Yesod (June 15): Improvised music with roots in Kurdistan and "Psychedelistan."
French-American Peace Quartet (June 20): Copresented with Earshot Jazz, these improvisers come from Chicago, New Orleans, New York, and France.
East/West Collective (June 22): Traditional Asian folk forms mixed with avant-jazz.
Nosferatu (June 28): Composer/bassist Tom Peters live-scores the 1922 silent film.
Tim Root's 50th Birthday Bash (June 29): Celebrating the Seattle composer.
Seattle Composers' Salon (July 5): New and in-progress works.
Stuart Dempster and His Trombone Choir (July 6): His "amazing" trombone choir, that is.
Jazz: The Second Century (July 11): Local artists.
El Grupo Arrastre (July 12): Percussionist and Animist Orchestra founder Jeph Jerman leads "a choir of singing pot lids."
Substrata Festival (July 18–20): Electronic, ambient, experimental.
New Works for Speaking Cellist by Karl Knapp (July 22): The Fairbanks Symphony Orchestra principal who also has a Broadway background
Jazz: The Second Century (July 25): Another installment.
Girma Yifrashewa (July 26): Ethiopian composer/pianist.
Brad Sherman (July 27): The Seattle composer's new ensemble works.
Paul Rucker and Gretchen Yanover (Aug 3): Cello music.
Noisegasm + Distorrent (Aug 10): "Abstract electronic music with a heavy dose of noise and distortion."
Jacob Peck and Derek M. Johnson (Aug 16): Improvised music by Bay Area guitarist Peck and Olympia cellist Johnson.
Unused Lexical Variable (Aug 17): Three players, new electro-acoustic improvisations.
David Dunn (Aug 24): "Analog electronic music exploring complex generative feedback systems."
Seattle Composers' Salon (Sept 6): Again!
MEANY HALL
University of Washington campus at 15th Ave NE and NE 40th St, 685-2742, meany.org
Northwest Girlchoir (June 22): The 40th anniversary concert!
FREMONT ABBEY ARTS CENTER
4272 Fremont Ave N, 414-8325, fremontabbey.org
Seattle Ladies Choir (June 28–29)
TOWN HALL
1119 Eighth Ave, 652-4255, townhallseattle.org
Thalia Symphony Orchestra (June 8): A season finale with Brahms's Academic Festival Overture, Berlioz's Nuits d'Ete, Op. 7, and selections from Prokofiev's irresistible Romeo and Juliet.
Byron Schenkman and Friends: Schubertiade (June 9): A handful of seriously marvelous local musicians present the adored work of Franz Schubert, including Shepherd on the Rock for soprano, clarinet, and piano, which he composed in his final months.
JACK Quartet featuring Joshua Roman (June 11): The string quartet that's been called "viscerally exciting" with works by Lutoslawski, Rodericus, and Brian Ferneyhough, marked by a world premiere, Quintet, by young composing sensation Jefferson Friedman (born 1974). New new new.
Lake Union Civic Orchestra (June 14): Attention! Dvorak's cello concerto, featuring Michael Center, is paired with the rarely heard Gaelic Symphony by the late Bostonian Amy Beach. Gasp! A full-scale work written by someone with ladyparts?! Beach is not just any woman, either—Gaelic Symphony, which remixes Irish folk music in the classical mold, was the first symphony completed by an American woman, in 1896. She lived from 1867 to 1944, wrote mostly under the title Mrs. H. H. A. Beach (her husband, who died in 1910, was a surgeon), and had been a child-prodigy pianist.
Seattle Girls' Choir: 30 Years of Inspiration (June 15): Girls of all ages make their voices heard.
CORNISH COLLEGE OF THE ARTS
710 E Roy St, 726-5151, cornish.edu
Persian music and poetry with Ostad Hossein Omoumi and Jessika Kenney (June 22): Omoumi is a Persian classical music master who was born in Iran in 1944 and has performed all over the world. He's now based at UC Irvine but comes regularly to Seattle, and one of his students here is the remarkable vocalist Jessika Kenney, one of this year's Stranger Genius Award finalists (see page 17). Go!
Free student summer-camp concerts (June 28–Aug 17): Students in the Summer at Cornish programs perform what they've learned, from Indian classical singing (June 28) to their own new compositions for film (July 12), musical theater (July 25), and chamber ensemble (Aug 9).
THE ESOTERICS
Venues vary, 935-7779, theesoterics.org
SCORE! Celebrating Twenty Years with the Esoterics (June 15–16): This spring, the technically impeccable, artistically risk-loving Esoterics perform what their audience members and singers voted for: two concerts of a cappella masterpieces, one secular (Saturday night, of course) and one sacred (Sunday). Composers range from dead Strausses to living Seattleites. You won't be disappointed with the Esoterics. (June 15 at St. Joseph Church, 732 18th Ave E; June 16 at Holy Rosary, 4210 SW Genesee St)
COLUMBIA CHOIRS OF METROPOLITAN SEATTLE
Venues vary, columbiachoirs.com
Summer Sounds (June 8–9): Americana-themed concerts at Bellevue First Presbyterian Church and Lake Washington United Methodist Church. (1717 Bellevue Way NE in Bellevue and 7525 132nd Ave NE in Kirkland, respectively)
Festivals & Events
B'Shnorkestra CD Release with Jherek Bischoff Opening (June 8, bshnorkestra.com): The great emerging Seattle composer Samantha Boshnack and her alternative chamber orchestra celebrate the release of their first studio album, Go to Orange, along with music by indie-pop-meets-orchestra composer Jherek Bischoff, also of Seattle, who just so happens to be a Stranger Genius Award finalist this year (see page 17). Get there!
Seattle Choral Company Celebrates Britten's 100th (June 8, seattlechoralcompany.org): Three of Britten's short masterworks—Cantata Misericordium, Op. 69, from 1963, his first choral work after the War Requiem; Hymn to St. Cecilia, his last large-scale collaboration with W. H. Auden; and the Chorale After an Old French Carol, part of Britten's largely neglected repertoire for radio and the theater—share the program with two pieces that form a single work by the young Norwegian composer Ola Gjeilo (born 1978). They're Dark Night of the Soul and Luminous Night of the Soul (the latter has never yet been heard in Seattle). They were inspired by the mystical texts of St. John of the Cross, said to have been written in the late 1570s, when John was held in prison by the Carmelites. Once in the dark of night, inflamed with love and wanting, I arose...
Seattle Chamber Music Society Summer Festival (June 29–July 26, seattlechambermusic.org): This year's festival is smaller, more manageable. Rather than the 26 concerts of last summer, this year's event is 12 concerts, mostly at Benaroya but one free and outdoors in Volunteer Park, plus a family concert meant to introduce little ones to chamber pieces (and, you know, an oboe). This is a fantastic place to hear music from Bach and Paul Simon on the same program, to see world premieres, and to sample the classically popular and the obscure.
Olympic Music Festival (Weekends June 29–Sept 1, olympicmusicfestival.org): Every weekend, all summer, musicians perform chamber music while picnickers lounge in a barn on a 55-acre farm on the Olympic Peninsula. Awesome.
Bellingham Festival of Music (July 5–21, bellinghamfestival.org): Rather than the typical summer chamber-music festival, this schedule features a full festival orchestra focusing on symphonic music. There are six concerts, featuring soloists including Joshua Bell (cello), Garrick Ohlsson (piano), Pepe Romero (guitar), and Frederica von Stade (soprano).
The 20th International Icicle Creek Chamber Music Festival (July 7–27, icicle.org): Three hundred years of music, 20 years of festival traditions, seven concerts in bucolic Leavenworth.
Marrowstone Music Festival (July 21–Aug 4, marrowstone.syso.org): Some 200 aspiring professional musicians aged 13 to 25 come to Bellingham every summer from all over the world. Hear ambition play.
A Night of Genius (July 24, strangertickets.com): Come to the Frye Art Museum and meet the finalists for this year's Genius Award in music: Eyvind Kang and Jessika Kenney, Katie Kate, and Jherek Bischoff (see page 17), all on a panel moderated by truly marvelous Stranger music editor Emily Nokes. For $10, you get admission plus a cocktail.
Methow Valley Chamber Music Festival (July 25–Aug 3, methowmusicfestival.org): The 18th year of the festival involves six chamber concerts of music by Brahms, Beethoven, Mozart, Philip Glass, and plenty more, worth the trip for the venue alone: pretty Signal Hill Ranch, halfway between Twisp and Winthrop.
Orcas Island Chamber Music Festival (Aug 9–24, oicmf.org): Two weeks of "classical music with a view" is in its 16th season, and has not missed its chance to title a concert utilizing the pun "Orcas-trations."
Sponsored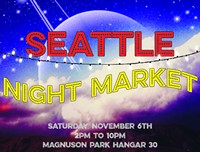 Shop, snack and booze your way through 75+ local shops & retailers. 21+ with vaxx or negative test