WEDNESDAY 6/5
GET YOUR GAY-LA ON
Brace yourself! Some of the best of Pride is happening on the same day and/or evening or whatever—we've got a lot to cram in (tee-hee!). Indeed, our schedule is one big glorious clusterfuck from this moment through the end of Pride. (Kevin Kauer has set up THREE major and majorly famous-drag-star-packed Pride events that everyone needs to pay deep and penetrating attention to—get tickets immediately, or you shall miss everything and die of shame and sadness.) In the now, however, we've got tonight to worry about, and tonight is for the SIFF annual Gay-La (I know, I know... cringe... "Gay-la"). The film: basically Mean Girls, but gayer somehow. (Don't ask me to explain the impossible.) Popular girls befriend a gay kid for wicked purposes; hilarity ensues. It's called G.B.F., which of course stands for "gay best friend." (The best part is that Luna Lovegood is in it! Swoon.) The gala: It happens immediately after the film at Q Nightclub (which I guess the organizers thought was a gay club—silly heads!). This event is always a booze-fueled, dancey good time, with occasional crudités! It's the gayest night of SIFF; revel in it. Egyptian Theater, 7 pm, $12 film/$25 film and party at Q, 21+.
THURSDAY 6/6
Y-O-U, YOU WANNA
What the hell did poor old Madonna ever do to the Pony boys? I ask you. Tonight is Madgioplasty (tee-hee!), their new trashy Madonna... what? Tribute? Roast? Yup. Madonna clips and songs and costumes and special performances (secret!) and fabulously bad Madonna fan art. I just hope she doesn't show up and murder us all. Pony, 9 pm, free, 21+.
J/K POPPIN' WITH ALEKSA AND BISHIE
Tonight is just stuffed with big gay goodness. This is a very special JK Pop—an all-out drag-queen throwdown benefit for Pride Asia, hosted by the charming and wondrous Aleksa Manila! DJ Bishie is on the decks, and the place will be occupied by the entire House of Manila army. Gaysiany! Barboza, 9 pm, $3, 21+.
Sponsored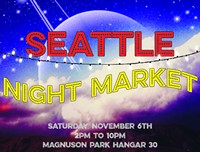 Shop, snack and booze your way through 75+ local shops & retailers. 21+ with vaxx or negative test