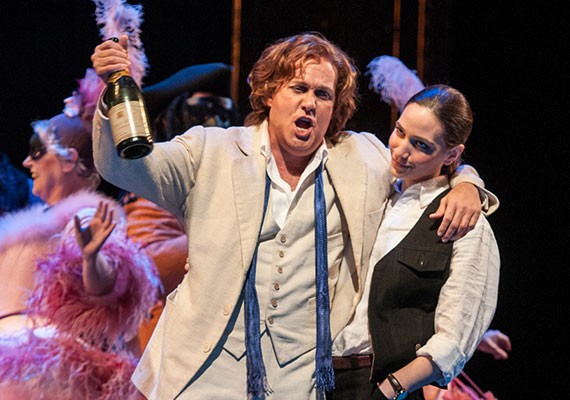 I had a sort-of relationship one time with a woman who asked: "Do all of your relationships take place in your head?" Of course, I thought, where else do relationships take place? A while after we broke up, I sort of began to understand why she had left me.
The Tales of Hoffmann is about an emotionally clueless writer whose romantic relationships take place in his head. He falls stupidly in love with women who are not right for him while remaining oblivious to the real love given him by his girl-disguised-as-a-boy sidekick, Nicklausse, who is also his muse. It's a funny and sad and ridiculous story, or quartet of stories-within-a-story, and this production of Jacques Offenbach's opera, first mounted in Seattle in 2005, plays up the comedy and pathos with sparkle, slapstick, silliness, and some terrific performances. My brother's girlfriend flew down from Alaska to see William Burden as Hoffmann, and I can see why—Burden's got a hunky, Liam Neeson–ish physicality and an open yet urgent tenor. He's excruciatingly accurate as an artist whose heart and body are too big for his brain. Myself, I was smitten by the androgynous sass and feisty-to-tender vocals of mezzo Kate Lindsey's muse/Nicklausse. Many of the vocalists in these stories-within-a-story are multi-cast the same way the actors in the Kansas part play the people Dorothy meets in Oz. Norah Amsellem, as the females Hoffmann adores, shifts seamlessly from the haughty diva Stella to the mechanical doll Olympia to the innocent girl Antonia to the worldly courtesan Giulietta. Nicolas Cavallier channels four degrees of menace as the villains that foil Hoffmann.
The Tales of Hoffmann is the last show to be performed under the directorship of Speight Jenkins, who, after 31 years, will retire from Seattle Opera. To choose this affection-filled comedy for his last gift to the city, rather than something by Wagner—which is surely what Seattle Opera is most regarded for—strikes me a kind of Shakespeare's Tempest gesture: the conjurer saying good-bye to the loves he both created and remembers.
Sponsored

Back by popular demand, Dan answers your burning relationship questions live on Zoom!