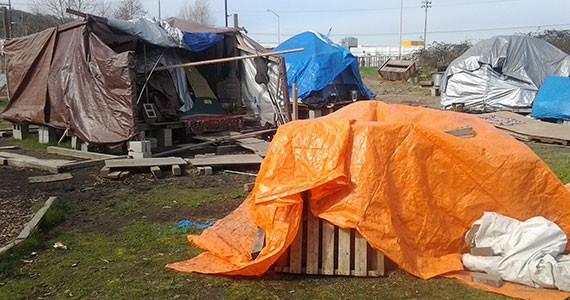 Seattle has a long history of dealing with homelessness. One solution was "tent cities," encampments that house about 300 of Seattle's roughly 8,000 homeless people. One of those camps was founded in 2008 and dubbed Nickelsville, named after former mayor Greg Nickels, who had evicted the campers from various plots of public land until they moved to their current home near West Marginal Way in West Seattle.
On Sunday, March 17, Seattle police paid a rare visit to Nickelsville. They were responding to a 911 call from a resident who said she was being forcefully evicted by a pack of other campers. The police report contained allegations of rape, mob rule, and corruption—so I wanted to find out more. I discovered that although the situation was a mess, it was not indicative of mob rule. It was a symptom of a small community of people, living on the fringes of society, who feel they have no choice but to establish their own justice system.
Officer Larry Longley arrived at the camp around noon that Sunday and found a group of Nickelsville residents surrounding a tent with axes, splitting mauls, and crowbars, a police report alleges. After wading through the crowd of people trying to distract him, Longley began to conduct interviews.
The short version of the story is that one woman was being evicted by the camp's "security council," a group of campers charged with overseeing the camp's safety. The police report says that the woman and her boyfriend had been "barred" from the camp for threatening to call the police with allegations of sexual assault. Calling the police without first consulting the security council, the camp's head of security told the police, was a breach of Nickelsville's code.
Two other female campers had been barred for sneaking the woman back inside the encampment to collect her belongings. One of the women was inside of her tent when the crowd formed around it to dismantle the tent while she was still inside, the police report explains. The other two women were somewhere outside the camp at the time.
Officers also spoke to one of the victims' boyfriends. That boyfriend told Officer Longley that he had been investigating a sexual assault on his girlfriend before the night's turmoil. He believed that the camp's head of security had sexually assaulted his girlfriend, and that four other women had been assaulted, extorted for sexual favors, or raped by the head of security, the man told police. The officer eventually located one of the victims, who gave a similar story.
The police officer did not detain anyone. He did, however, speak to members of the camp's security council and informed them that they had no legal authority to evict anybody from city land, the police report explains, and that residents must take their criminal grievances to the police rather than the security council.
I went to Nickelsville the following weekend to ask residents about the incidents in the police report, to ask them about their self-governance, and to speak to the head of security who had been accused of sexually assaulting other campers.
The location is discreet, hidden in a slight embankment off of bustling West Marginal Way. Inside the camp were roughly 50 tents dotting a surprisingly clean foundation of pallets and wood chips. Many of the tents were sporting American flags, potted plants, and porch ornaments—things that bring a sense of normalcy to the camp.
I eventually made my way to a smoking tent where I sat down with a handful of campers. They told me that the head of security was gone, evicted like the others, on allegations of sexual assault. He had since been replaced by an articulate female camper named Monica, who was sitting in the smoking area with the others. She asked that I use only campers' first names.
The victims of the ex–head of security's alleged assault were also gone, and the campers did not know where I would be able to find them. But Monica, and two other women I spoke to at the camp, became visibly agitated when talking about the "touchy-feely" former head of security. They said he had approached them inappropriately before, although not to the extent described in the police report. They were happy that he was gone. I wanted to reach the former security chief for a statement, but Monica said she didn't know where he had gone after he was evicted.
I asked why they didn't call the police about his alleged crimes. Monica told me that they call the police only for dire situations or acts of violence, and that they hadn't heard of the sexual-assault investigation until after officers arrived. She claimed that the evicted female camper, the one who told the police she was the victim of sexual assault, was being barred because she had skipped her required shift at the camp's security desk, not for calling the police, as the SPD report stated. Had they known about the rape investigation, they may have been willing to consult the police, but they're technically squatters at Nickelsville, and they believe police involvement could result in them being evicted, Monica said.
When I asked them to describe barring people from camp, their faces dropped. When the other campers heard our conversation, they quickly piled into the tent where we were talking. A few of the camp's more outspoken members shouted their opinions through the accumulating cigarette smoke. Although many of them agreed the campers should have been kicked out, a longtime resident who asked that I not use his name said, "We went too far, pulling their house out from underneath them. It was a power trip." He went on to explain that the rules are there to keep residents safe. If anyone breaks them, they have to leave. "We can't operate a camp like this without some kind of order," added a resident named Linda.
And they have put a lot of effort into establishing the "order" that Linda was talking about.
There are two requirements for every incoming camper: You can't be a sex offender, and you must sign the "encampment rules" sheet. The sheet contains 17 requirements for residents that include prohibitions on liquor and drugs, and it says that everyone must work weekly shifts in the security shack—which the first evicted camper had reportedly failed to do. If someone breaks the rules and is evicted, he or she can make an appeal to return to the camp. The head of security who had been accused of sexual assault had been barred permanently without the right to appeal, according to Monica.
These rules are enforced by the security council, which is elected during a weekly Wednesday meeting. There are also nine other elected posts, including the "goat master," who is in charge of feeding Sally Clark and Richard Conlin, the resident goats named after two city council members.
I later spoke to Tim Harris, who runs Real Change newspaper and has worked with Seattle's tent cities since their infancy. He said that this form of self-governance is ubiquitous across all of the tent cities. However, he added, "What's different about this encampment... is that generally a tent city is on property with permission to be there," and Nickelsville is not, so "the police are viewing this camp as squatters."
"When they've asked the police for support," Harris added, police told them there's nothing they can do, "so they've had to resort to vigilante justice."
What Harris and the residents of the tent city were describing was a society that has been swept under the rug, that can no longer subscribe to normal city services, and that believes it has no choice but to create a sovereign democracy.
It makes sense that Nickelsville residents are wary of calling the police because they don't want to be evicted. But if someone is afraid to report a rape, then that justice system has a serious problem. And that justice system apparently concludes that rape and missing a security shift deserve equal punishment—being evicted from camp—when, obviously, allegations of sexual assault should be investigated (and punished).
One resident, Steve, who had spoken remorsefully about the eviction earlier, told me, "Look, we all live in tents... look around," and gestured toward a meandering walkway through scores of tarp homes. "We're all just trying to find a way to feel human."