WEDNESDAY 2/22
BLACK BREATH, CHRISTIAN MISTRESS, HE WHOSE OX IS GORED
Sponsored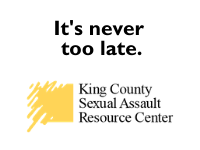 Free, confidential, inclusive support and information about sexual assault is available 24/7
Black Breath are utterly merciless. Having reached notoriety round the world now, their heavy fucking metal will transform the Black Lodge into a sea of hair and limbs, even on a Wednesday. Brought to this stage via Olympia's new wave of British heavy metal is Christian Mistress, who are led by powerhouse vocalist Christine Davis. The '80s-obsessed sound comes into full effect on their debut album, Possession, which is set for release February 28 on Relapse Records. Rounding out a night for destruction is the surprisingly approachable kraut-metal doomgaze of He Whose Ox Is Gored, whose cross-genre assault fuses doom metal, post-rock grandiosity, and dreamy shoegaze. You may want to hold onto your hat—and your flesh—for this one. Both are at risk of burning off. Black Lodge, 9 pm.
SATURDAY 2/25
HALF GIFT, THE FEELING OF LOVE, DREAMSALON
After nearly a yearlong hiatus, Half Gift are back on the scene with all-new material, personnel, and haircuts. With the recalculated sound, they land somewhere near a bleak marriage of Swans and Slowdive. Tonight, they join Dreamsalon (toting ex-members of A-Frames and Love Tan) and aptly titled space pop from the Feeling of Love, coming all the way from France.Cairo, 8 pm, $5.
RVIVR, SNUGGLE, NEON PISS, BOWLCUT, AGATHA, BLOODSWEEP
In a propulsion of positivism, Oly pop-punk band Rvivr inspire with glass-half-full lyrics so earnest they destroy cynicism upon impact. Lines like "Rain down some change on me/Flow through me like a stream" are easy to knock on the page, but IRL they're so catchy, you are forced to believe. Riot grrl trio Bloodsweep and politically infused hardcore from Agatha round out the night. Black Lodge, 8 pm.
ALSO RECOMMENDED:
Fri Feb 24: Neighbors, Theo Grizol, iji, Spoon Boy, and more at Funny Button, 5 pm.Sat Feb 25: Santee, Autococoon, Creech, Underground in Suburbia (documentary on Bridgetown Records) at Cafe on the Ave, 8 pm.