It's hard enough to decide what to do when there are two great shows to choose from on any given night, but this Friday, March 19, there are three fine all-ages shows happening. THREE. And of course there's no way you could go to all of them, or even two of them—they all start at about the same time and are on opposite sides of town. Well, crap. Here's what's going on—you decide what to do:
Sponsored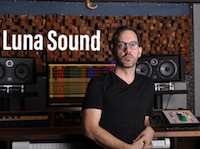 Luna Sound can cover your production, recording & mixing needs. Mention the Stranger ad for a 15% discount!
Option #1: The Radio8Ball Show hosted by Andras Jones at the Henry Art Gallery, 7:00 p.m., $12. Tonight's Radio8Ball show is part of Hollow Earth Radio's monthlong Magma Festival, a benefit to raise money for the beloved online radio station. It features musical guest Karl Blau and a giant wheel that will decide which songs he plays. The Blow (swoon!) will also be making an appearance via Skype.
Option #2: BirthDIYfest at the Vera Project, 7:30 p.m., $8/$9. BirthDIYfest is an annual party to celebrate and thank everyone involved in Seattle's DIY community, and you're invited! This year's lineup is killer: BOAT, Kay Kay and His Weathered Underground, Feral Children, and more. And they've also got over a dozen tables where you can get information on local labels, artists, and other all-ages clubs. Plus: They'll have balloons!
Option #3: Ted Leo and the Pharmacists at Neumos, 8:00 p.m., $14. I love Ted Leo and the Pharmacists, and their new record, The Brutalist Bricks, is their best since Shake the Sheets—soulful power pop, full of hooks. I fucking love it. (See Stranger Suggests on page 23 for more gushing.)
It looks like an impossible choice, I know. Just keep in mind that you're in for something awesome no matter where you end up. And if it's too daunting to decide, just stay home, make nachos, and watch The Lost Boys. That'd be fun, too. RIP, Corey Haim.
Recommended All-Ages Shows
Sat March 20: Dangers, Owen Hart, Power, Cool Runnings, and guests at the Viaduct (Tacoma), 7 pm, $10.
Tues March 23: Tim Barry, Lizzie Huffman, Mostly Dimes at El Corazón, 8 pm, $10.