Free music! Outside in the sun! Holy shit!
What I mean to say is, a handful of new and old Sound Off! alumni are celebrating summer this Thursday, July 8, with a free show at Seattle Center.
The headliners are 2004 Sound Off! finalists Idiot Pilot, who are making music again after taking some time off to explore other musical projects (singer Michael Harris toured a bit with Cold and guitarist/laptop guru Daniel Anderson started a solo project called the Ghost and the Grace). They have some new songs, and they've recently been incorporating a live drummer into their sets (something I've wanted them to do since day one).
Also on the bill are my favorite local piano-laced project People Eating People (featuring Nouela Johnston of Mon Frere, who won Sound Off! in 2004) as well as Seacats (who were finalists in this year's competition). The show starts at 7:00 p.m. in the lot outside EMP, rain or shine (but hopefully shine).
But maybe you'd rather drink! (Assuming you're of legal drinking age, of course.) This week also brings the start of the Vera Project's annual A Drink for the Kids benefit. Starting Sunday, July 11, at the Cha Cha, Vera volunteers will be visiting different bars every night this week, and all you have to do to lend your support is show up and buy a drink. They're hitting bars in Capitol Hill, Ballard, the Central District, Queen Anne, and West Seattle. You can see when and where they'll be at www.adrinkforthekids.org.
And speaking of Vera fundraisers (and doing the complete opposite of sitting in a dark bar and drinking), organizers also just announced the date for this year's Run Vera Run event—the 10k run and 4k run/walk will take place October 10. Start training now and work off whatever empty calories you drink this week! Register and find out more at www.runverarun.org.
Recommended All-Ages Shows
Thurs July 8: Kevin Seconds, James Hunnicutt, the Drama Montage at El Corazón, 7:30 pm, $8 adv/$10 DOS.
Thurs July 8: John Roderick of the Long Winters at Triple Door, 8 pm, $20.
Sponsored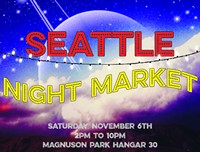 Shop, snack and booze your way through 75+ local shops & retailers. 21+ with vaxx or negative test