Lady Gaga is in town this week! Zzzzzzz. Wake me up when her supposed collaboration with David Bowie leaks. I've got something that's better! For one, it's not a rip-off of Madonna circa 1986–1992, and for two, neither of the bands I'm recommending this week would ever rhyme "bluffin'" with "muffin" (in which "muffin" means vagina) during a corny rap breakdown.
For the month of August, KEXP is hosting free outdoor concerts at Seattle Center's Mural Amphitheatre. These shows are a fantastic way to spend an evening—two weeks ago, I saw Grand Hallway play to over a thousand people and I met a wonderfully happy and fluffy puppy named Noah. Fun is sure to be had again this Friday night as the summer concert series carries on with Head Like a Kite and Say Hi, two local bands that have had my ears wrapped around their musically talented fingers for a while now (not literally).
I've become downright smitten with Head Like a Kite since they released their latest record, Dreams Suspend Night, which features members of the Saturday Knights (Tilson!), the Long Winters, Smoosh, and Animals at Night. I can't wait to hear the songs live, outside, under the Space Needle.
I'm confident I'll feel the same way about Say Hi's new material—as soon as I have a chance to hear it. While their next album is finished, only a handful of folks have actually heard it and, sadly, I'm not one of them. But according to the band's chief songwriter, Eric Elbogen, the words people have so far used to describe it include "vibey," "classic," and "different." And that's all he could tell me.
Here's hoping we'll get a little peek at those "classic" and "vibey" new songs this Friday evening. With puppies!
Recommended All-Ages Shows
Fri Aug 20: Head Like a Kite, Say Hi at Mural Amphitheater, 6 pm, free.
Fri Aug 20: Casiokids, Light Pollution at the Vera Project, 7:30 pm, $8/$9.
Mon Aug 23: Boris, Red Sparowes, Helms Alee at Neumos, 8 pm, $15.
Sponsored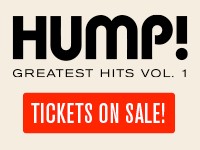 What are YOUR favorite HUMP! films? Start with HUMP! Greatest Hits, Volume One! Relive the memories!