Two weeks of semifinals down and two bands out of eight have advanced in EMP's annual Sound Off! competition: New Faces and last weekend's winners, the Nextdoor Neighbors. This weekend's third round will send one last band to the finals on March 1, where they'll compete with New Faces and the Nextdoor Neighbors for a grand prize that includes a performance at Bumbershoot along with some gear and studio time.
Sponsored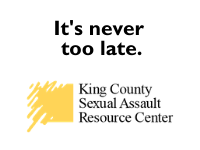 Free, confidential, inclusive support and information about sexual assault is available 24/7
This week's lineup: Deer City, Kusikia, Shotty, and Man Down Medic.
Deer City is a name you may already be familiar with, as the Issaquah kid's gotten a couple mentions in The Stranger lately. Deer City's Jeff Stillwell is a talented, one-man, teenaged band armed with a gamut of keyboards, drum machines, and other noisy toys. His thoughtful electro-pop tunes have the honesty of a young Bright Eyes minus all the debilitating depression.
Man Down Medic from Seattle share Deer City's electronic inclinations (in that they also have keyboards), but instead of lo-fi bedroom lullabies, Man Down Medic play power pop dripping with oversized emotions. They've got the kind of explosive, anthemic choruses that Reggie and the Full Effect rock, but Man Down Medic add dreamy male vocals, bright female harmonies, and subtract the lyrics about midgets and fictional Swedish metal bands.
If you're a fan of more traditional alternative rock, then Kirkland's Shotty's the band you'll be rooting for. Their influences include Loudermilk, the Smashing Pumpkins, and "loose women and broken hearts." They're perhaps the most straightforward rock band in this year's Sound Off!—though sometimes they throw in a little pop ("Blue Bom") or some dirty guitars ("Deep Fried") to keep ya guessing.
Finally, from Tacoma, is a duo called Kusikia. They do experimental jazz-meets-blues stuff by way of drums and guitar—it's not all instrumental, but there are very few vocals. Their sometimes-psychedelic songs really sound more like sessions—a couple of musicians jamming after listening to some Hendrix records. It'll be interesting to see how their loose compositions stand up to, say, Man Down Medic's pop outbursts.
We'll find out Saturday, February 23, at 8:00 p.m. at Level 3 of EMP. Then next weekend, on Saturday, March 1, all three finalists, the best of the best, the cream of the Sound Off! crop, will play at the EMP Sky Church, and Sound Off! 2008's champion will be declared.