Thursday 3/18
Justin Bond
(Triple Door) See preview, and Stranger Suggests.
Devendra Banhart and the Grogs, Dorothy and the Originals
(Showbox at the Market) A barefoot Devendra Banhart poses for an Italian fashion photographer while being interviewed: His eyeliner is thick, a burly beard froths from his chin, and five necklaces tangle over his bare chest—beads, lions' teeth, topaz crystals. A bindi is centered on his forehead, and he's wearing short-shorts. He intermittently strums old Lester Flatt bluegrass tunes on his acoustic guitar and fields questions. Is he still dating Natalie Portman? What's it like to be Man of La Mantra? Warner Brothers' voice of the freak folk? Icon of the hip antihipster? Banhart closes his eyes, shyly dodges the questions, and speaks in a faux accent about how he was named after the Hindu god of rain and thunder. Then he makes up a poem about a paper airplane that turns into the sun. TRENT MOORMAN
Sponsored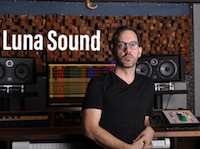 Luna Sound can cover your production, recording & mixing needs. Mention the Stranger ad for a 15% discount!
Say What!: Copy, Fourcolorzack, Recess, Darwin
(Chop Suey) You whippersnappers will be too young to remember this, but back in the day—say, like 2007—Chop Suey had the only decent 18-plus club night in town with a little monthly called Club Pop. Now two of Seattle's most excessively ecstatic party crews, Shameless and Out for Stardom, have teamed up to present Say What! a new 18-plus dance night for a new generation of kids old enough to die for their country but not old enough to drink—with a bar for their 21-plus friends, of course. Tonight, Portland's keytar-wielding electro auteur Copy will rock a live set, and local ADDJ Fourcolorzack will man the turntables, along with resident DJs Recess and Darwin. Now get off my lawn! ERIC GRANDY
The Curious Mystery, Diminished Men, Federale
(Comet) What better way to celebrate Thursday than to kick back into the end of the workweek with a mellow country-flecked song or 10 from the Curious Mystery? Shana Cleveland's vocals evoke the best of Cat Power (she lets out with the occasional soulful moan), Jesse Sykes (she mumbles adorably), and Smog (there's a general ironic detachment to her line reading that makes you love her even more when she casts it aside for a totally unironic ache). The Curious Mystery's sound—out-of-tune autoharps chugging along in the background, languid guitars plucking out accompaniment for Cleveland's sordid storytelling—might not make you want to get up and dance, but it'll punch some kind of weird button you didn't even know you had. Just slump down in your chair, drink your beer, and let them slowly rip your guts up right in front of you. PAUL CONSTANT
Maceo Parker
(Jazz Alley) Maceo Parker has blown gusts of ribald genius into saxes for James Brown, Parliament-Funkadelic, Prince, and many other music-biz luminaries. Many came to know Parker through his "I Be Blowin'" cameo on hiphop giants De La Soul's Buhloone Mindstate. Parker has gone on to have a long solo career while guesting on records by Jane's Addiction, Material, Deee-Lite, and others. Even at 67, Parker can still harness the soul and funk that made him a legend in those styles, although the material of his later years doesn't stack up to his prime era as a sideman (not much does, really). Expect an epic rendition of "Pass the Peas," many Ray Charles covers, and other deathless cuts. DAVE SEGAL
Kreator, Kataklysm, Evile, Lightning Swords of Death, Lazarus A.D.
(El Corazón) It's odd to think there was a time before death metal existed. Just imagine: no Cannibal Corpse Tomb of the Mutilated T-shirt to offend your mom, no Nile blast beats to clean the wax out of your ears. So metal lovers should be thankful that German thrash-metal powerhouse Kreator (no pun intended) pioneered the genre, laying down a brutal blueprint for younger generations to follow with their first two LPs, 1985's Endless Pain and 1986's Pleasure to Kill. Showing up early for Kataklysm is a solid plan, as Max Duhamel's "northern hyperblast" style of drumming will, at the very least, make your earplugs worth the 50 cents you paid for them. KEVIN DIERS
Friday 3/19
Ted Leo and the Pharmacists, the Hive Dwellers, the Sea Navy
(Neumos) See Stranger Suggests.
Maceo Parker
(Jazz Alley) See Thursday.
The Green Pajamas, the Drug Purse, Blue Horns
(Sunset) It's a telling metaphor about the Green Pajamas' status in Seattle that, while preparing to write this blurb, I couldn't find their latest CD anywhere at home or at work. Even though they've been making gorgeous psych pop for 26 years, they remain bafflingly under most people's radars. If you're a fan of deftly composed, baroquely arranged pop with subliminal nudges into altered states of consciousness, you owe it to yourself to explore the Green Pajamas' hefty catalog. Tacoma quintet the Drug Purse evoke the, um, druggier side of the Byrds' sun-kissed, California psychedelia and the disheveled, opiated ramble of the Brian Jonestown Massacre. Portland's Blue Horns offer peppy, hooky rock that urgently urges you to have a good time. DAVE SEGAL
Pendulum, N-Type, Flave, Aaron Simpson
(Showbox at the Market) N-Type (British producer/DJ Mark Newton) deals in the sort of heavy, menacing dubstep that, when you hear it, makes you feel about 20 times tougher than you actually are—which partially explains his popularity. He combines brute sonic strength with an aptitude for tense atmospheres that seep into your synapses rather than bludgeon your dome. N-Type is also skilled and connected enough to release mixes via the revered Rinse and Dubstep Allstars franchises. His taste is unfuckwithable. Australia's Pendulum fuse rock bombast to drum 'n' bass bombast, but all that bombast ends up being not the bomb but just ass. Stadium jungle played by a live band sounds grand in theory, but as practiced by Pendulum, it piles up into a mountain of cheese. DAVE SEGAL
Saturday 3/20
Maceo Parker
(Jazz Alley) See Thursday.
Joe Nice, Ill Cosby, .Spec, Kristina Childs, Lara, Misha
(Chop Suey) See preview.
Library Science, Madly in Dub
(ToST) On their latest full-length, Dolphin, Seattle's Library Science largely abandon their blunted, Northwesternized dub meanderings in favor of a more hyper and extroverted brand of electro and cute-cosmic IDM. It's an unexpected deviation and, despite what my esteemed colleague Charles Mudede wrote in his lukewarm review of Dolphin, a not entirely wrongheaded move into brighter textures, more madcap moods, and friskier tempos. Those allergic to fun should stay home and avoid Dolphin, but this new version of Library Science really has (un)serious possibilities. Fellow locals Madly in Dub have that punny moniker going for (or against, depending on your tolerance for wordplay) them and a flair for laying conscious raps over heavy-lidded, funky dub. Irie vibe rations abound. DAVE SEGAL
Sunday 3/21
Maceo Parker
(Jazz Alley) See Thursday.
Metric, Codeine Velvet Club, Nico Vega
(Showbox Sodo) Watching them shower stadium love all over the Muse-T-shirt-sporting crowd at a recent corporate-radio rock concert in the cavernous WaMu Theater, I had a realization about Metric: All broadcast-ready rock should be this shamelessly smart and sweet and fun. The Canadian quartet's synth-laced power pop is slick as hell, every riff and chord in its perfect place, alternating between nimble keyboard melodies and big, soaring guitar choruses. Emily Haines's lyrics tackle all kinds of complexities (gender, relationships, rock history) and somehow turn them into easy anthems. She's a manically animated presence onstage, and she sings like a siren in both senses of the word: sinisterly seductive one minute, a blaring (but still tuneful) alarm the next. ERIC GRANDY
Monday 3/22
Matias Aguayo, Pezzner
(Nectar) See Stranger Suggests.
Tuesday 3/23
Peace, Loving; Wilson Shook
(Gallery 1412) See The Score.
Mac Lethal, Soulcrate Music, Prof, Akream
(Nectar) While a Mac Lethal show is damn near guaranteed to be a rowdy, beer-soaked experience, it's Minneapolis-based newcomer Prof you need to watch out for tonight. It's almost not fair to other MCs how he can switch from a languid, dallying cadence to a precise, diamond-tipped double-time vocal wobble with such ease, all while seemingly not giving a shit about any of it. Prof has character and charisma, a couple qualities that are oh so important in hiphop yet too often pushed to the wayside in favor of super-complex metaphors or dizzying strings of multisyllabic rhymes. Prof knows how to strike the balance, and it shows on both his latest record, Recession Music, with Stophouse labelmate St. Paul Slim, and "Elephant," the first leak from his upcoming album, Kaiser von Powderhorn 2, a loudmouthed showcase of his well-earned arrogance. Check him out, and let Prof take you to school. KALEB GUBERNICK
Tim Barry, Lizzie Huffman, Mostly Dimes
(El Corazón) Last summer, I saw Tim Barry open one of the Bouncing Souls' 20th-anniversary shows in Philly. Though the night belonged to the Souls, the former Avail frontman easily owned the crowd for his 30-minute set. It was just him and his acoustic guitar, playing alt-country-flavored songs with his heartfelt lyrics about dead friends, too much drinking, and other depressing things that sound almost romantic when paired with his six strings. For a few of the songs, he opted to forgo the stage and the mic altogether, jumping down into the middle of the sold-out crowd and singing songs at the top of his lungs while everyone circled around him singing along. It was fucking amazing. Here's hoping Seattle shows him the same well-deserved love. MEGAN SELING
Greg Ginn & the Texas Corrugators, This Blinding Light, Low Hums
(Comet) This Blinding Light play soulful, meditative psychedelic rock that will have the heads swaying, watching the kaleidoscopes unfold on the backs of their eyelids. Black Flag/SST founder Gregg Ginn's Texas Corrugators are a little jazzier and more eclectic, adding some shuffle and swing to their psychedelia. (Can "acid-cowboy country-jazz" be a genre?)Low Hums' minimalist Mexicali blues sounds like a Cormac McCarthy novel, sprawled out beneath the stars and a poncho, smoking a joint and watching the embers die before drifting off to sleep. The Comet should provide couches. BRENDAN KILEY
Wednesday 3/24
Hauschka, Dustin O'Halloran
(Triple Door) I could go on about the genius of director Sofia Coppola: the way her films (especially The Virgin Suicides) are so elaborately, purposefully, and chillingly superficial; how she uses silence and implication to do the heavy lifting; her acute, William Blakean sense of the tragic gap between innocence and experience... She's also a whiz at soundtracking, always adventurous and sometimes even masterful. Coppola used a few meditative pieces by German composer and pianoman Dustin O'Halloran for her Marie Antoinette—pieces with a classical bloodline but obviously written for contemporary ears. O'Halloran's compositions tend to be unobtrusive works that ask you to come to them to find their surprisingly, subtly emotional depths. The Dusseldorf-based Hauschka, on the other hand, comes to get you with his melodic, electronica-influenced prepared-piano works. (It used to take the man two hours to rig up his instruments the way he wanted.) He's a playful interventionist, both experimental and fun. These two Germans will make a nice pair. BRENDAN KILEY
King Dude, Diver Down, Stickers
(Chop Suey) Have you heard of King Dude yet? It's the self-proclaimed new "solo satanic acoustic band" from TJ Cowgill, singer for local death-metal heavies Book of Black Earth. King Dude is the kind of band that plays pretty-sounding folk music and makes band T-shirts with real cow's blood... You know, the kind of band that lifts your spirit with melody, light, and hope—even though the lyrics are sometimes about cannibalism, Armageddon, ghosts, werewolves, and bodies boiling in flame. It's songs about nature, the devil, and being human—music to appease the evil spirits inside your head. KELLY O