As Seattle heads into its soggy season of endless gray and dusk at 4:30 p.m., a miraculous thing happens: ART, which has been nourishing souls and curbing suicide rates since time began. Here for you are a multitude of events worth surviving autumn for. Attending these events will make you smarter, sexier, and less likely to become one of those people who relate primarily to cats and Law & Order reruns. Keep this guide in a safe place for future reference—autumn ain't over till it's over.
Face Time
Adult sleepover! On Saturday nights, artists will hold free, all-night encounters—camping pads provided—at Seattle University's Hedreen Gallery, in a stab at rethinking the relationships between visual artists and audiences. There will be "late nights, early mornings, and locked doors in between," according to incoming (and awesome) curators Jessica Powers and Whitney Ford-Terry. Attendees should bring pillows and sleeping bags. The remaining artist lineup is Emily Pothast and David Golightly (Sept 18), Eli Hansen (Sept 25), Matthew Green (Oct 2), and the Oregon Painting Society (Oct 9)—all of whom are both good artists and a good time. Through Oct 9. Hedreen Gallery, 901 12th Ave, 296-2244. JEN GRAVES
Martin Creed
The show is called Open/Closed, Big/Small, Full/Empty, On/Off. Plainly, it is about oppositions, four sets of them, to be precise, set up by the Scottish artist Martin Creed (in absentia; with one exception, these are past works). Big/Small shall be represented by the co-residency, during gallery hours, of a Chihuahua and an Irish wolfhound (a dog that can stand taller than its owner when it gets on two feet). Another gallery will be full to half its height with silver balloons, to fulfill the artist's instruction: "half the air in a given space." Get over there and live between things for a while. Through Dec 18. Western Bridge, 3412 Fourth Ave S, www.western- bridge.org. JG
Merce Cunningham Mania
Nobody but nobody was like Merce Cunningham, the dancer and dancemaker who reconceived what bodies can do in time and space in front of audiences. He was born in Centralia and he died last year. In between, he paired up with lifelong collaborator and partner John Cage and went to Cornish College of the Arts, which is organizing this minifestival homage, including dance performances, open rehearsals, talks, an art exhibition, and, at Seattle Art Museum, a screening of contemporary artist Tacita Dean's heralded film of Cunningham's working process, called Craneway Event. Through Nov 20. Cornish College of the Arts and Seattle Art Museum, www.cornish.edu and www.seattleartmuseum.org. JG
Storefronts Seattle
This is free and public and for a good cause: the life of your sagging city's core. Throughout Pioneer Square and the International District, artists and business owners have worked together to fill vacant retail spaces and storefronts with giant quilts, installations of road signs and sleeping bags and papier-mâché dragons, paper cuttings, photographs by artists with fancy gallery representation who don't have to do this for free, neon sign art, video projections based on manipulations of real-time footage, and an entire little museum of playable pinball machines. If you don't like anything here, you can start thinking about what should be, since this is your town, after all. Through Feb. Various locations, www.storefrontsseattle.com. JG
'Image Transfer: Pictures in a Remix Culture,' 'Panoptos'
Young and hot and interesting artists from all around the country are coming together for Image Transfer: Pictures in a Remix Culture, while Seattle trio SuttonBeresCuller has set up a machine (Panoptos) that allows you to zoom in on the paintings hanging all the way up a very tall wall in the museum. The ideas? Nothing is original, nothing is untouched, everything already is in circulation. As artist Corin Hewitt would say, this is not just a contemporary condition, this is what it means to be born into a world that already exists. You know the feeling, now look at the pictures that describe your world. Oct 2—Jan 23 (Image Transfer), Oct 2—Feb 13 (Panoptos). Henry Art Gallery, 4100 15th Ave NE, www.henryart.org. JG
Picasso
Well, hell. Of course you should go to the Picasso show at SAM. Yes, it's calculated to take your dollars away from you and put them into the museum's coffers en masse, but there are two big reasons why this is thoroughly acceptable: A bunch of really, really good paintings are going to be given to your eyes for that money, and the museum is quite in need of dollars and not by any misdeeds of its own (considering that Washington Mutual essentially collapsed on top of poor SAM like an old fat lover with bad habits and a heart condition). So let's do this blockbuster already. Oct 8—Jan 17. Seattle Art Museum, 1300 First Ave, www.picassoinseattle.org. JG
Noah Davis
Like a cross between old Bay Area figurative painters like Nathan Oliveira, the newly minted Leipzig School masters such as Neo Rauch, and classic-cool African American portraitist Barkley Hendricks, Noah Davis comes blazing out of Los Angeles making paintings that are both plain-looking and byzantinely complex in tone. Having gained attention since his inclusion in the Rubell Family Collection exhibition 30 Americans, Davis will have his first Seattle show, of brand-new and unseen works, at James Harris Gallery. They say painting is at a standstill in Seattle—painters, come and get your moves on. Oct 14—Nov 27. James Harris Gallery, 312 Second Ave S, www.jamesharrisgallery.com. JG
Sponsored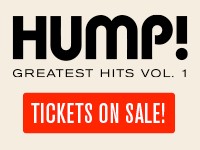 What are YOUR favorite HUMP! films? Start with HUMP! Greatest Hits, Volume One! Relive the memories!