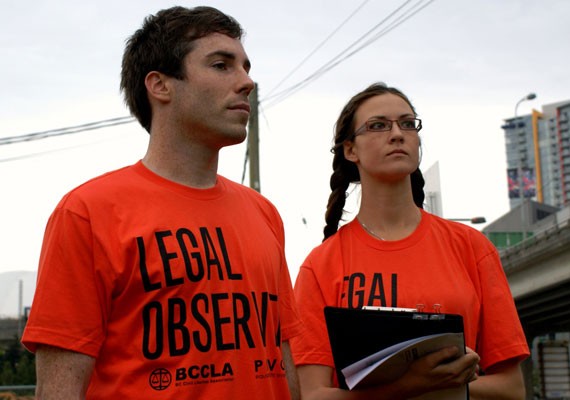 In February, when Vancouver, British Columbia, kicks off the 2010 Olympic Winter Games, 20 teams will begin patrolling city streets and venues, scouring for anything—people, protests, posters—deemed anti-Olympics. The squads are the creation of the Vancouver Organizing Committee (VANOC), responsible for planning, organizing, financing, and staging the Winter Games.
Sponsored

Join PNB for a timeless tale of holiday adventure performed by PNB's amazing dancers and orchestra.
Bill Cooper, VANOC's director of commercial rights management, told newspapers in fall that VANOC's intention is to protect the Olympic message rather than censor other messages. A news release issued in September said VANOC observers will simply monitor "commercial infringement and ambush marketing" and have the power to seize materials that violate the Olympic brand.
But civil-liberty advocates believe the group's impact will be more sweeping, even going as far as to quash free speech and the city's culture. Documents obtained by the BC Civil Liberties Association (BCCLA) include the "Olympic Technical Manual on Media," in which the Swiss-based International Olympic Committee (IOC) attempts to limit Games' media coverage to that which "spreads and promotes the principles of Olympism." The IOC also issued the "Clean Venue Agreement," which states that private security guards will prevent people from holding signs or wearing clothes with political messages in Olympic venues. They outline, in the BCCLA's opinion, VANOC and the IOC's plans to restrict free speech.
"Free speech is not a security risk," says BCCLA executive director David Eby. "The Olympic spirit will not be dampened by people standing outside the venue handing out leaflets that say 'Canada should end the seal hunt.'"
But VANOC's street teams won't go unchallenged. Following closely behind them will be 25 legal-observer teams assembled by the BCCLA and the Pivot Legal Society, a legal-advocacy organization based in Vancouver's Downtown Eastside, documenting their every action to ensure free speech is protected during the Winter Games.
Legal observers will monitor the VANOC teams, armed with video cameras, still cameras, and notebooks. They will wear orange T-shirts marked "LEGAL OBSERVER" and "document police and other security force activities in a thorough, neutral, and professional manner," according to the training manual, amassing evidence that can then be used in court if legal issues arise.
"All of Vancouver is supposed to be a free-speech zone, according to the Vancouver City Council," says Am Johal, chair of the Impact on Communities Coalition. But he fears the city will lose its liberties "due to these Orwellian laws being passed at the initiation of a franchising body based in Switzerland and [with] no consultation from citizens."
How far VANOC plans to take its monitoring is unclear—VANOC spokespeople did not return calls by press time.
Meanwhile, legal-observer trainings, which began in September, will continue once a month until the Games begin.