• Whoa! Cheap Trick will play the Puyallup Fair on September 11, CeeLo Green will be performing the following evening, with Carrie Underwood on the 13th, and Carly Rae Jepsen and Hot Chelle Rae on the 20th, closing with Kid Rock on the 22nd. How much money does the Puyallup Fair have? Can they get the Mark McGrath & Friends '90s cruise back together?
• About midway through the Trashies' humid set at Black Lodge on Friday, a group of dudes started slamming along to the gunk-rock, causing those who wished to remain unbruised to retreat to the back. One enthusiastic thrasher could not keep his elbows to himself, and eventually a beverage was playfully spit in his direction, after which the incensed punk looked up in shock and took out his iPhone to make sure it had not been harmed.
• SIFF's music-documentary lineup has been fantastic this year (including Big Star: Nothing Can Hurt Me, A Band Called Death, and Twenty Feet from Stardom, the documentary on stellar backing vocalists). We caught one of 'em last week: Muscle Shoals, about the many legendary recording sessions cut in rural Alabama. It's a moving and stimulating portrait of FAME Studios boss Rick Hall and his house band the Swampers, and the soul-music history—and, as a byproduct, the racial harmony—they created in that isolated part of America. Muscle Shoals also proved that it's the dorkiest-looking white boys who are the funkiest.
• One of Seattle's—nay, the country's—best record stores, Wall of Sound, needs to move before July is over, as it occupies space in the Melrose Building that's being repurposed (GRRRR). WOS owners Jeffery Taylor and Michael Ohlenroth hope to remain on Capitol Hill, but will consider other neighborhoods. If you see any available spaces in the 700-to-900-square-feet range that look indie-music-shop-friendly, let 'em know at wosound@qwestoffice.net.
• One could not help but notice at the Trash Fire and Eternal Summers show at the Sunset Tavern on Thursday that the weird red painting of blurry people in a bar (with paintings behind them! AH!) that long hung behind the stage has recently been replaced by fresh new "real-venue-style" curtains. Seattle's Trash Fire were charming and Virginia's Eternal Summers were brutal, BTW.
• Hot tip: Check out the totally sick New York–based sixth-grade metal band called Unlocking the Truth. They are 11 YEARS OLD, can often be found playing out in Times Square, and have more shredibility than most grown-ass grown-ups.
Sponsored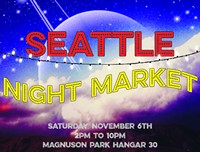 Shop, snack and booze your way through 75+ local shops & retailers. 21+ with vaxx or negative test