Let's start with what Oddfellows is doing right. The space—a giant, high-ceilinged room in Odd Fellows Hall on Capitol Hill—is great. Linda Derschang (Linda's, King's Hardware, the Rob Roy, Smith) has done a pretty much perfect vintage-salvage interior: scarred wooden floors, exposed brick wall, jars of pickled things on shelves, stern photos of old-timey people (including the building's founding fraternal order). There is an American flag so awesomely antique, it might as well be the one that inspired Francis Scott Key; there is a chalkboard that raises and lowers by an ingeniously simple mechanism. The room has great bones—the beams alone inspire joy—and so much airspace that spirits are automatically lifted.
Derschang and her partner, Ericka Burke of the Volunteer Park Cafe, modeled Oddfellows on nearby Cafe Presse: a place to meet, hang out, and eat and drink at reasonable prices both day and night. Seating includes long tables with benches, pews with tables for two (the other seat being adorably old-timey but rather hard on the spine), swivel stools at the counter. During the day, light floods in from the wall of windows, service is order-at-the-register, and the whole neighborhood is here. You might see the guy from Bailey/Coy Books reading, Pike Street Fish Fry's Michael Hebb having a meeting, or The Stranger's publisher drinking coffee (the office is a block away). It's loud and happy, like an ideal dining hall; it begs for a food fight. At night, it's still loud and still happy, and it's the right place for pretty much everyone. One evening recently, a group with many tattoos drank cans of Schlitz, a girls' night out had champagne cocktails, and a couple on a date prayed before eating, all within a few tables of each other.
Given all this greatness (plus the proximity to the office), I want very much to love Oddfellows without qualms. The unfortunate thing is, I can't find anything that's great to eat there. It's not for want of trying: I've had more than two-thirds of what's on the menu over the two and a half months since it opened. Some things have been fine: The rotisserie chicken ($15) had peppery-crisp skin and moist meat, with unobjectionable mashed potatoes and simple sautéed greens. It was good. Also good, and slightly more exciting: crispy pork nuggets ($6). You expect pieces of meat à la chicken nuggets, but the texture is meatbally—it's pulled pork, lightly breaded and deep-fried. With a sweet-spicy dipping sauce, it's a tasty snack. Sandwiches are served at lunch and at night, and three out of four I've tried were completely adequate (not counting a panini special, which had stringy prosciutto and too much goat cheese). The Oddfellow was grilled and salty and Reuben-ish with its rye bread, salami, coppa, Gruyère, and pickled red onion ($8). A basic barbecue pulled pork sandwich: portion on the small side, sauce on the sweet side ($8). The French dip ($8) featured tender meat and an oddly thick jus. In the most-improved category: mac and cheese ($6), on the dry/bland side in its initial incarnation, now a nice little dish of campanelle (cute bell-shaped pasta with ruffled edges) with a creamy, smoky- flavored sauce. These dishes are all entirely acceptable, but not especially compelling; I want something (ideally, plural somethings) that I'll think about later and go back specifically for.
The dishes that I've tried that are not so good are indicative of a kitchen that can't handle the basics or (more charitably, though it doesn't help the diner much) is wildly inconsistent. Simple vinaigrettes have been so oily, they coat your lips with a sheen; one dressing, on the "simple green salad" ($6), was so salty as to be inedible. When I had the chicken panzanella salad ($9), the proportions were crazy: barely any chicken and way too much bacon. Too much bacon! Who knew it was possible? Bacon was left behind. An order of fries ($6) was thick and mealy, their special sauce too sweet. Beef stew ($12) was on the salty side, without depth or nuance, the meat less than tender. A gigantic, gorgeous braised pork shank ($14) had little flavor at all, and its lentils were al dente. In the shepherd's pie ($10), the little bits of carrot and celery and onion were also undercooked, kind of comically crunchy—and the ground beef seemed unspiced. The chicken salad in a sandwich ($7) was unbelievably mayonnaisey, even for a fan of mayonnaise.
Unhappily, I could go on, but you get the idea: cooking that's often out of balance and occasionally completely off the rails. Oddfellows' menu isn't rocket science, and it's the same kind of contemporary comfort food that's earned Burke praise at the Volunteer Park Cafe. She and Derschang have the right place and the right idea; now they just have to get what's on the plates right.
Sponsored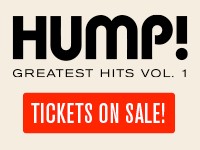 What are YOUR favorite HUMP! films? Start with HUMP! Greatest Hits, Volume One! Relive the memories!