Albert Shen is a skilled political climber. He earned the governor's appointment in 2009 to the Seattle Community Colleges board. Meanwhile, he has served as a board member for the Puget Sound Susan G. Komen Foundation, proving his loyalty to women's issues, and last year, he joined the Obama campaign's national finance committee, raising more than $100,000 for the president's reelection and earning his stripes in the Democratic Party.
It seems natural that Shen, 46, would now run for election to city hall. "It's what I want to do; it's what I want to accomplish," he says.
Although Shen initially planned to run for mayor, he's settled on the Seattle City Council, taking on Mike O'Brien, one of four council members defending their seats this fall. O'Brien is the council's most liberal member, a freshman who has sponsored successful, although controversial, bills to reform elections, ban plastic shopping bags, and create an opt-out registry for yellow pages (the yellow-pages companies sued the city, requiring the city to pay out a $50,000 settlement, but a registry was ultimately implemented). Still, Shen says, "It's not about him," adding there is "no particular reason" he ran against O'Brien.
That line of defense makes it difficult to discern what Shen would do differently than his opponent.
When pressed on agenda specifics, Shen says he intends to bring his expertise managing storm-water runoff as an engineering consult to the council when it begins a cleanup of the polluted Duwamish River. (A virtuous goal—although O'Brien's environmental bona fides as the former director of the state's Sierra Club chapter suggest he would also be a strong advocate for river cleanup.)
Shen argues that Seattle needs him because the council is currently all white.
"The council has no ethnic diversity right now, and with my background as an Asian American... I want to bring that diverse perspective to the city council, and I think that's been lost recently," Shen says.
The council actually does have a member of color: Bruce Harrell, who is half Japanese and half African American. When I tell Shen, he says, "I stand corrected on that."
That one slipup alone may not be worth reporting—everybody misspeaks from time to time, even if gaffes by aspiring politicians are magnified. But it's worth mentioning because, for all Shen's ambition and strategic ascent in politics, it seems characteristic of his candidacy. By the end of our hour-long interview, Shen showed he was unfamiliar with several pressing city issues and was unversed in policy debates before the council. Although Shen proclaims noble civic intentions "to serve the public in some capacity," he still presents a mystery about what he would do if voters boost him higher up that political ladder.
Shen penned an op-ed in the Seattle Times last December in which he lamented that "streetcar construction sprawls throughout the city," even though a scant few miles of track hug the urban core. He also blasted the city leaders for "finding solutions that beg for a problem to solve." Hoping to find some air between him and the council, I ask Shen what he meant.
Shen cites the city's decision to spend its affordable housing funds in South Lake Union, funds that will be gained by letting developers build taller towers in the neighborhood instead of less expensive areas like Rainier Valley and the International District where they "can build more affordable housing per dollar."
While that's a valid point, Shen couldn't identify the counterargument—that affordable housing should be kept where the jobs are, in South Lake Union.
In general, Shen's politics vacillate between out of touch and impractical.
For instance, he opposes the legalization of marijuana. "I have personally seen the abuse of marijuana and what it has done to kids and families," he says. (Seattle voted overwhelmingly for a state law to legalize marijuana last fall.)
Regarding bike lanes, a subject the city council has more influence over, Shen opposes nearly all of them: They get in the way of vehicles, particularly freight traffic, he says. He adds that they should be limited to streets where they can be separated from cars with pylons and locations where "it is safe for them." It seems backward to build bike lanes only in places that it's already safest for bikes while neglecting the roadways where they run a larger risk of getting hit.
Shen also says he is a "little wary" of a bill that would limit employers from asking applicants about their criminal history until they are tentatively hired, a measure with most of the council's backing designed to reduce recidivism.
While Shen appears somewhat disengaged and conservatively out of step with Seattle's council—and voters—he is flush with cash. The latest city records show he has raised $93,000, nearly double the $47,000 raised by O'Brien, meaning Shen may climb this ladder, too.
Sponsored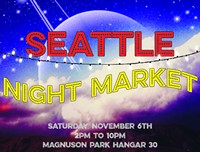 Shop, snack and booze your way through 75+ local shops & retailers. 21+ with vaxx or negative test