The Russian superstar Maria Sharapova just informed the world that she failed her drug test at the Australian Open. Her blood contained traces of a drug called Mildronate. The drug entered the list of banned substances this year. Mildronate
provides
"an increase in endurance performance of athletes, improved rehabilitation after exercise, protection against stress, and enhanced activations of central nervous system functions."
Maria, we forgive you. We know it's not easy for a white beauty like you to be in the shadow of a very black woman from Compton. That shit is hard.
Sponsored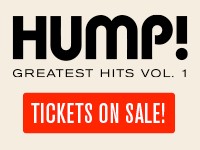 What are YOUR favorite HUMP! films? Start with HUMP! Greatest Hits, Volume One! Relive the memories!