As Seattle struggles to respond to a growing homelessness crisis, a local nonprofit says it's closing 15 overnight shelters due to a funding shortage, leaving about 300 people looking for somewhere else to sleep beginning tonight.
Representatives from the nonprofit SHARE/WHEEL say they're $75,000 in debt and unable to sustain the homeless shelters they operate in church basements and other buildings throughout the city. SHARE organizers blame decreased county funding and increased costs (including inflation and the minimum wage) for their shortfall. They say the organization needs $10,000 more per month than they're currently receiving from government contracts and donations in order to keep the shelters open.
City officials say they have given the organization enough money to run the shelter beds. Jason Johnson, deputy director of the city's Human Services Department, says SHARE/WHEEL has a city contract to receive $610,932 to run shelters this year. Johnson says that "is enough money to keep 250 people sheltered with a roof over their head every night throughout [one] year," as the contract requires.
"This is an advocacy move," Johnson says. "They have enough money to keep 250 people indoors and they are choosing to close some of those shelters."
SHARE board member Jarvis Capucion disputes Johnson's characterization. The city contracts are split between SHARE and WHEEL, essentially two wings of the same organization. SHARE is set to get about $328,700 this year and WHEEL will get about $282,200. WHEEL's portion is enough to continue operating a 50-bed women's shelter, but SHARE's contract is not enough to run the remaining 15 shelters, Capucion says.
"The idea that we're just doing this for advocacy is not true," Capucion says. "We're flat-out broke and we cannot continue to operate."
Part of the problem: SHARE is doing more than just offering the 250 shelter beds Johnson referenced. The nonprofit says they offer shelter to 300 to 400 people per night. They also run three tent encampments. Financial documents provided by SHARE show their 2014 expenses totaled $781,640, significantly more than they're getting in city funding. Budgeting is complicated by the fact that city contracts operate on reimbursements, he says. The organization has to have the money to cover its expenses up front and then be reimbursed by the city. When they're operating in debt, the upfront spending is not possible, Capucion says.
In the past, SHARE has received county and federal money and private donations in addition to city funding. Over the last two years, the county has cut its funding to SHARE. (Adrienne Quinn, director of the county's Department of Community and Human Services, says the organization can apply for funding again this fall.) Today, to call on the county to reinstate that funding, SHARE participants will rally at Third Avenue and Yesler Way at 1 p.m. and then set up camp at the King County Administration Building.
Capucion says the encampment is meant to put pressure on the county to help fund SHARE, "but primarily we're running this outdoor encampment to provide people a safe place to be while our indoor shelters are closed."
In the regional effort to address homelessness, SHARE represents an ongoing policy divide: Should government focus its efforts on emergency services or longterm housing providers?
SHARE is a bare-bones, grassroots provider. The organization offers shelter but does not fund case managers to help people find permanent housing, as many shelter services do. Organizers say that makes their operating costs significantly cheaper than other shelters.
"Our mission is to provide immediate safety and survival for homeless people while they wait for housing," Capucion say. The lack of case managers is also part of SHARE's "self-management" model. During his time living at a SHARE tent city, Capucion says he saw many people who weren't looking for a case manager. "All they need, basically, is to save up few bucks or get a new job and then move into renting an apartment, if those are available," he says. "They're people who are highly functional. Not everyone needs case management."
But that's not always a popular model for government funding. Increasingly, governments want to be able to show that the programs they're funding get people into permanent housing. SHARE's model doesn't provide for that sort of management and tracking.
Tim Harris, the founder of Real Change and a longtime homelessness advocate in Seattle, says SHARE has repeatedly faced dire funding situations like this, though it's gotten worse over time. He describes it as a "kind of shoving match."
On one hand, local governments want funding accountability and "the kind of metrics the county and city are looking for are not what SHARE is set up to do," Harris says. On the flip side, with a growing homeless population, the city and county need all the shelter space they can get. SHARE is providing that space on the cheap. According to SHARE's estimates, their costs are around $5.50 per person per night while other providers range from $24 to $90 per person per night.
"I want to see it end well, I really do," Harris says, "because what they do is really important. But this is an ongoing issue that's never fucking addressed. How do we do this in way that is sustainable?"
Sponsored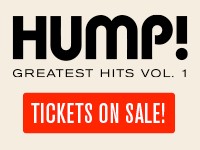 What are YOUR favorite HUMP! films? Start with HUMP! Greatest Hits, Volume One! Relive the memories!