As noted in this week's feature, Killroom Records is issuing on April 15 Seattle band Acapulco Lips' self-titled debut album, which you can stream above. To reiterate, it's a vibrant, hook-heavy fusion of garage- and surf-rock that's sweetened by bassist/singer Maria-Elena Juarez's alluringly defiant vocals. The Magalie Laroche-directed video for the album's first single, the mood-elevating "Awkward Waltz," has just dropped, too, and you can view it after the jump. Juarez explained the theme of the song to Music & Riots Magazine:
"Awkward Waltz" is about our favorite DIY venue in Seattle, Black Lodge. My thought was that there's this really great thing going on so close to the center of town that does so much for the independent music community, and as things start to change its existence could potentially be threatened. So the song's message is pretty much, to anyone that may try to disrupt, "Move along. There's nothing to see here."
Sponsored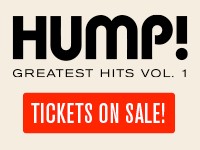 What are YOUR favorite HUMP! films? Start with HUMP! Greatest Hits, Volume One! Relive the memories!