It will be no secret to anyone that Prince guarded his copyrights very closely. He was not into YouTube, deplored file sharing, and was wary of the streaming services. Many read this as prima donna-ism, or crazy rockstar megalomania, but it was clearly in the historical tradition of Black artists—one thinks of stories of Aretha Franklin and Ray Charles demanding, for very different reasons, to be paid in cash—refusing to participate in their own devaluation.
Anyway, you may have run to YouTube and Spotify looking for your favorite Prince songs to share and share alike. But Prince was not super interested in having big companies profit from his work more than he did. He wanted you to go to the record store (wrecka stow!), to his website, or to his concerts, then to buy his records before you listened. I hope there are long lines all weekend long.
In the meantime, you might also want to do a bit of reading—not just of the obituaries and appreciations that are flooding the internet even as you read this one, but of the nearly four decades' worth of critics trying to develop a vocabulary expansive enough to contain, or even to suggest, the dazzling capacity of one of the greatest (actually, very possibly thee greatest) popular musician of the 20th century. If so, here are a few suggestions to start with:
"I Am Your Conscious, I Am Love: A Paean 2 Prince" by Hilton Als in Harper's, 2012:

"Being enthralled—or, more accurately, frightened and turned on by Prince and what his various looks said about an aspect of black male sexuality—was that something only comedians could talk about? And when they did, did Prince's weirdness have to be the butt of the joke, so to speak, along with colored queerness? For the most part, I wasn't interested in the Prince who produced 1999 and Purple Rain and Around the World in a Day and at least half of Sign "O" the Times (all released between 1982 and 1987). Those felt like self-consciously "white" pop albums to me, a craven desire on The Artist's part to belong to the world outside the colored queens I had known growing up, who called Prince "Miss." Why did he want to leave us for that non-world of convention he seemed to aspire to, where "she" got married to a woman who looked like her, then, to make matters worse, dressed as Miles Davis had while on tour promoting his rock-jazz fusion album Bitches Brew? Why did he want to betray the colored queer in himself?"
"Dorian Purple" by Sasha Frere-Jones in The New Yorker, 2007:

"It doesn't matter that the artist, who is forty-eight, has released only a handful of decent recordings in the past fifteen years. He is perhaps the greatest living performer in the pop tradition. The fact that, as he says during his live shows, "my friends all look different—I look just the same" simply enhances the impression that he is our Dorian Gray, if Gray had been raised by Cher and James Brown. Prince's songwriting heyday, which stretched from 1979 to 1988, is rivalled only by the Beatles' in generosity, formal variety, and intensity."
Michaelangelo Matos's Sign O' the Times 33&1/3 book. (A perfect blend of the personal and the scholarly.)

"...the shock of the line "When I was your man" comes not from the vocal's androgyny so much as its bluntness. He's flippant, wounded, tense; there's nothing light about it, and the ending ("Then I'd hold you tight and hold you long and together we'll stare at the silence") is breathtaking."
Robert Christgau and Carola Dibbell on the Sign O' the Times film:

There are limits to how great a rock concert movie can be, and we figured Jonathan Demme's—and Talking Heads'—Stop Making Sense had stretched them as far as they were liable to go. But even though Sign "O" the Times was directed by the artiste, whose previous cinematic exploits haven't exactly put him in Demme's class, Prince has come up with a contender. Where Demme goes for a sinuous, almost elegant clarity, Prince's movie is all murk, scuzz, steam, and, oh yeah, sex. With all due respect, which one sounds more like a real rock concert to you?
Actually, all of Christgau's short form Prince record reviews, especially the Dirty Mind one, with the famous line about Mick Jagger's genital apparatus and its pending obsolescence.
I Would Die 4 U: Why Prince Became an Icon by Touré:

And, again, Michaelangelo Matos in Pitchfork on the making of Dirty Mind:

"When Prince signed to Warner Bros. Records in 1977 at age 19, his contract not only called for an unusual degree of creative control—he was to write, produce, and play every instrument on his recordings, à la Stevie Wonder—but also explicitly stated that he be part of the label's pop roster, not its R&B one. This distinction would shape the entirety of his career to come."
"Food Fight: Real Life Top Ten 1981" by Greil Marcus, from In the Fascist Bathroom:

"All barriers were in place when Prince opened for the Rolling Stones at the Los Angeles Coliseum in October. He was roundly jeered and taunted with racist catcalls, and after inaccurate reports appeared in the news that he had been "booed off the stage" (Prince left after 20 minutes, all his contract allowed), he and his band were pelted with garbage at a second Stones show two days later..."
Real Life Top 10 (September, 1988), by Greil Marcus (on seeing the Lovesexy tour):

"It was one of those moments when, confronted with the distant figure on the stage, with the huge noise that years of concert-going cannot quite connect to the performer's body, you almost shudder at the reaction building inside you, asking, "Is this real? Is this happening?" You shut your eyes, trying to commit a thousand nuances to memory, but memory will barely hold a few—and you know that for all the rehearsals, all the effects, for every detail of the perfect script, the song can never be played precisely this way again."
Sponsored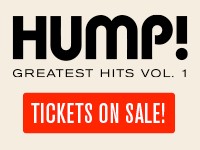 What are YOUR favorite HUMP! films? Start with HUMP! Greatest Hits, Volume One! Relive the memories!