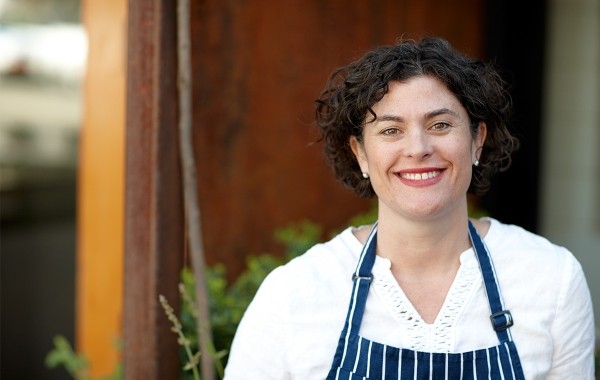 Last night at the James Beard Restaurant and Chef Awards in Chicago, Renee Erickson was named Best Chef Northwest.
Erickson won for her restaurant the Whale Wins; she is also chef and co-owner of Bar Melusine, Barnacle, Bateau, and the Walrus and the Carpenter. It's a well-deserved win, and one that comes as no surprise considering the year of professional success she's been having.
In March, Bateau earned four stars from the Seattle Times, the first time its critic Providence Cicero has ever given that rating. The current issue of Bon Appétit magazine includes a whole feature on the chef declaring "Renee Erickson makes us want to move to Seattle."
"This is confident restaurant food, without the bells and whistles that distract so many chefs," Andrew Knowlton wrote of Erickson's menus, which are influenced by rustic French fare, but defined by local produce, seafood, and meats.
"I sometimes wonder what it would have been like to enjoy a meal prepared by culinary doyennes of the past: M.F.K. Fisher, Elizabeth David, Julia Child. Then I realize Erickson is becoming that cook for my generation," he continued.
Erickson is a leader in the Seattle—and national—restaurant scene, not just for her food, but also her commitment to the industry and its workers.
A year ago, she and business partners Jeremy Price and Chad Dale (they operate their restaurants under the company name Sea Creatures) made the decision to eliminate tips, implement a 20 percent service charge, and raise front-of-house wages to $15 an hour in a move toward greater parity among restaurant workers. (The company also offers health insurance for employees working 25 hours a week, as well as a matching retirement savings plan.)
"The industry needs to evolve," Erickson told me at the time. "The system we've adopted in America favors the front of the house in financial value, and that's really not fair—at least we don't believe it to be.
"The conversation we always defaulted to," she added, "was the legitimizing of the [restaurant] industry that we felt wasn't there. There's this idea that being in a restaurant is a stepping-stone to whatever you're going to do when you grow up. I definitely chose a career that I'm super-proud of, and it feels hurtful when people are not treating you as equal to a cabinet builder or some other person in a craft."
Erickson's commitment to making restaurant work a well-paying, full-time profession is a personal one.
A recent article on the website Tasting Table, "Sauté It Forward," promised readers the chance to meet the chef "who taught Renee Erickson how to kick ass in the kitchen."
Asked who her mentor was, Erickson's answer both surprised and impressed me. She named herself.
"I didn't have what most people consider normal mentoring; I just went to work for myself, which is very uncommon and hard. I was responsible for it all, but I was also doing everything that I expected my employees to do," Erickson said. "It's not like I don't ask [my staff] to do a lot of really hard things all the time, but I also try to pay attention to some kind of balance. And most of them have stayed with us."
When Erickson accepted her award last night, she brought Marie Rutherford, chef de cuisine of the Whale Wins and a longtime employee and friend, on to the stage with her.