Since everyone seems eager to discuss how Seattle ain't how it used to was, I highly recommend taking an hour out of your day to watch Rock, Rage & Self-Defense, a new documentary by Leah Michaels and Rozz Therrien (its beginnings were reported here, five years ago, by Kathy Fennessy) about one of the most righteous chapters in this city's history of feminist activism and self-determination. Home Alive, which taught self-defense classes for women, was a direct response to the rape and murder of local musician Mia Zapata, a horrifying incident that shook Seattle music to its core. Michaels and Therrien interview the women at the center of the collective, who are very open about the triumphs and frustrations involved in launching, and ultimately leaving it. The form of the doc is familiar, but the candor of the interviewees, and the relative freshness of the history they recount, make for a bracing exploration of our city's recent past. And therefore, its present.
You can watch the whole thing below:
Sponsored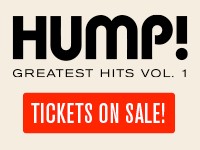 What are YOUR favorite HUMP! films? Start with HUMP! Greatest Hits, Volume One! Relive the memories!