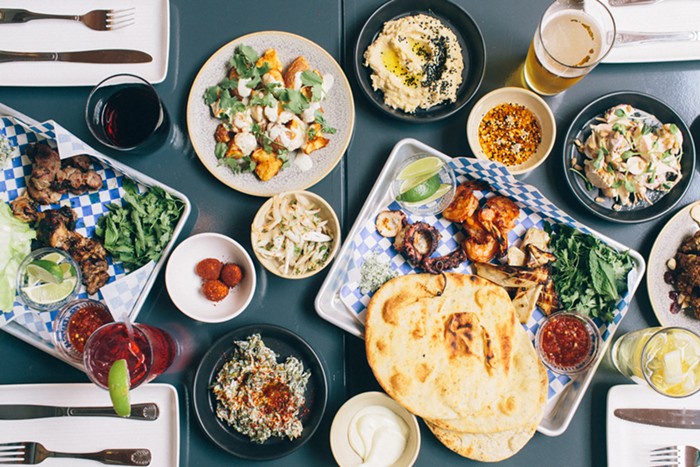 Sponsored
He took on Trump to protect our Democratic values. It's time for his proven progressive leadership.
Ciudad, a collaboration between two well-known Seattle entrepreneurs, Marcus Lalario (95 Slide, Alive & Well, Fat's Chicken and Waffles) and chef Matt Dillon (Sitka & Spruce, Bar Sajor, London Plane), is now open in Georgetown. The menu is built on grilled meats (and the restaurant is built to showcase its massive grill, which you walk by before entering the dining room), and accompaniments such as housemade flatbreads and pickles, as well as an array of flavorful sauces, including chimichurri and burnt honey with balsamic vinegar. The chef is the talented Nick Coffey, who previously worked for Dillon at Sitka & Spruce, and whose food I really enjoyed at Cafe Barjot.
An adjacent walk-up bar, Bar Ciudad, opens this Sunday, July 3. Ciudad is open for dinner Tuesday through Sunday, with lunch service staring in a few weeks.
Another Tavoláta On Capitol Hill
Prolific restaurateurs Ethan and Angela Stowell have opened a second location of their popular Belltown restaurant on Pike Street. The Stowells aren't breaking new ground with Tavoláta Capitol Hill, but I doubt anyone will mind. The menu consists of Tavoláta's well-known extruded pastas such as rigatoni with spicy sausage, spaghetti with anchovy, garlic, chili, and mint, as well as meaty entrees such as bone-in New York steak.
At the beginning of June, the Stowells quietly added a 20 percent service charge to guest checks at all 12 of their formal restaurants. (Their three, more quick service-oriented Ballard Pizza Co. locations have not added the service charge.)
"The plus of service charges is that it's really kind of like a full-on Uber experience. You just sign the check and it's done," Ethan Stowell told me last summer, when he and his wife were still debating whether to add one. Stowell acknowledged that one of the reasons they were hesitant was because of what a service charge would mean for their bottom line. (Service charges are technically considered added employer income and, as such, both subject to taxes and not required to be distributed to employees.) "The downside [of service charges] is what you do with all the money. There's tax implications to it," Stowell said.
This following statement is posted on the Ethan Stowell Restaurants website: "We now include a 20% service charge on each guest check. It has always been our goal to provide equitable wages for all members of our team and we believe this model is the best way for us to achieve this. The entirety of this service charge is retained by the house, of which 100% is distributed to staff in the form of wages and commissions."
Foreign National Serving Cocktails On Capitol Hill
From Eric Johnson and Seth Hammond, owners of the upscale Vietnamese-influenced Stateside, Foreign National, located next door, serves cocktails such as a "Long Thailand" iced tea and "drinking snacks" such as sour pour and sticky rice sausages.
As for the dark, swanky decor, which includes giant disco balls and gold lighting fixtures, Johnson told Seattle Met that it "evokes what certain parts of Asia really look like as opposed to Asian-inspired things." You can decide for yourself whether Foreign National successfully recreates, in Johnson's words, "a hole-in-the-wall bar that might exist in Saigon."
The Nest Opens High Above Downtown
Located on the roof of downtown's luxury Thompson Hotel, where chef and restaurateur Josh Henderson recently opened Scout restaurant, the Nest is Henderson's vision of an upscale bar and lounge. Service comes via carts custom-built for tasks such as oyster shucking, cocktail making, and meat carving. Nest, which boasts over 3,500 square feet of indoor and outdoor space, also boasts sweeping views of Seattle and the Puget Sound.

Pecos Pit Barbecue Expands to West Seattle
A second location of Sodo's beloved Pecos Pit Barbecue, this one with both indoor and outdoor seating, as well as a view (on sunny days) of Mount Rainier. The menu holds the same smoked meats—pork, beef, chicken, beef brisket, and hot links—and sides such as potato salad and tangy stewed beans.
Sponsored
Take 10% off all full-price online orders, plus discounts for essential & service workers, all day