The Angels in America oral history Slate just published begins with Tony Kushner talking about the first person he knew personally who died of AIDS—a dancer he'd had a crush on:
Tony Kushner (playwright of Angels in America): Around November of 1985, the first person that I knew personally died of AIDS. A dancer that I had a huge crush on, a very sweet man and very beautiful. I got an NEA directing fellowship at the repertory theater in St. Louis, and right before I left New York, I heard through the grapevine that he had gotten sick. And then, in November, he died.

And I had this dream: Bill dying—I don't know if he was actually dying, but he was in his pajamas and sick on his bed—and the ceiling collapsed and this angel comes into the room. And then I wrote a poem. I'm not a poet, but I wrote this thing. It was many pages long. After I finished it, I put it away. No one will ever see it.

Its title was "Angels in America."
The oral history continues here.
Playing devil's advocate: When Rebecca Brown reviewed the 2014 production of Angels in America for The Stranger, she almost ignored the production entirely, focusing on the play itself and what it has come to mean. Her review begins:
I know I'm supposed to like this play a lot more than I do. It has been dubbed The AIDS Play and A Great American Play and there is a lot in it I really like.
She went on to say:
My trouble with Angels is how relatively uncritically it's been received and embraced as the story of AIDS, a story in which three out of four gay men are self-loathing (Louis) or self-unaware (Joe) or just plain mean and selfish (Cohn); the fourth gay man, Prior (Adam Standley), is a victim and is dying. It's easy to feel sorry for victims, but only as long as you are confident that they have not been victimized by you—like the pathetic, sexually frustrated, untouched-by-feminism Mormon wife or the beautiful dying young Prior. Feeling sorry for victims can make you feel like you're politically and emotionally aware, but it is not so easy to feel sorry for a victim who is angry at not only his or her own "fate," but also at something in the world you might have helped create or perpetuate or just ignored. Angels in America is a complex play that looks at the lives of wounded individuals disconnected from the world and lets viewers off easily, as if AIDS is a condition we have always been compassionate about.
Rebecca Brown's take reminded me of Edmund White's infamous dis to The Guardian in 2005, about how AIDS literature "had become awfully kitschy—all those terrible plays by Larry Kramer and Tony Kushner, with angels and lovers who have deathbed marriages."
Anyway, former Stranger theater critic Annie Wagner was so piqued that Rebecca Brown spent her whole 2014 review on the play as literature, rather than on that particular production, that she came out of retirement to review it herself, and we published it the week after Rebecca's review. Annie's review began:
If "the AIDS play" seems like a weird way to refer to Tony Kushner's "gay fantasia" then great, we're on the same page.
Sponsored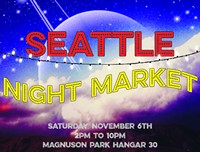 Shop, snack and booze your way through 75+ local shops & retailers. 21+ with vaxx or negative test