In three days, the state will hold a public hearing on a draft Clean Air Rule that aims to cut carbon emissions from 70 of the state's biggest polluters by 1.7 percent a year. But for some Washington parents and grandparents, that doesn't go nearly far enough.
"It's basically business as usual," Deborah Woolley, 66, said. "It's not consistent with what scientists say is necessary."
Woolley and 15 other people have started a three-day fast outside the Capitol building in protest of the state's new draft carbon cap. She and the other environmental activists see the cap as overly lenient to industry. When the new draft rule was introduced in early June, it gave certain businesses extra leeway if they had better emissions standards than the rest of their industry as well as a deadline of 2020 to start implementing the cuts.
In April, a King County judge agreed with eight youth plaintiffs who argued that Washington State was not fulfilling its constitutional duty to protect its citizens from the risks posed by climate change. The state's current carbon goals aim for a 25 percent reduction in greenhouse gases below 1990 levels by 2035. But the eight youth plaintiffs, supported by climate scientists Dr. James Hansen and the University of Washington's Richard Gammon, argued that the state must reduce its carbon emissions 50 percent by 2030 to contribute to keeping the planet habitable by the end of the century. This goal would require a 6 to 8 percent reduction in greenhouse gases a year—a far steeper cut than the proposed 1.7 percent reduction from 70 businesses.
Judge Hollis Hill put the Department of Ecology on a court-ordered deadline to finish the carbon cap rule by the end of the year, and also mandated that the department pose updated carbon reduction goals to the state legislature during the next session. The Department of Ecology has now appealed that ruling, saying it still plans to release a rule by the end of the summer but shouldn't be required to.
Governor Jay Inslee has since defended Ecology's latest draft rule as a way to put a carbon cap in place that sticks.
"[The rule] needs to be able to sustain legislative attacks on it," he said in an endorsement interview with The Stranger earlier this month. "I'm not interested in press releases here. I'm interested in policy that will survive."
Inslee said that he had done "everything at [his] disposal" to put a cost on carbon pollution, but an obstructionist Republican majority in the state senate killed the idea.
"I think it's great that we have people who are pushing the state; I know some of these young people who have inspired me," the governor continued. "I've been working on this intensely for a decade and a half at least. I'm intensely committed to this and nobody should have any qualms about that."
Sponsored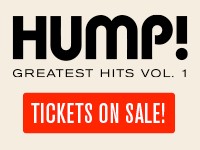 What are YOUR favorite HUMP! films? Start with HUMP! Greatest Hits, Volume One! Relive the memories!