On Day 3 of the DNC, I sat at a stool and counter overlooking the second-level seating and pulled out my little notebook and a pen. A man standing next to me commented, "You're writing your notes." He was surprised to see someone not typing them into a phone or computer. He asked where I'm from. I said, "I live in New York." He said, "Then I'm your lawyer." I said, "Huh?" He was Eric Schneiderman, the Attorney-General, and badass who's going after the fake university bearing the name of the other presidential candidate. Senator Tim Kaine was on the convention stage, charming even the doubters with his stories of being a Jesuit schoolboy and with his fluent Spanish: "Somos americanos todos."
Eric mentioned that he and Kaine were classmates at Harvard Law School. I said I went to Harvard. He asked, "What did you study?" I responded, "The history of law in China." Then he asked, "Do you speak Chinese?"... in Chinese! I didn't know the Attorney-General of my home-state knew Chinese. I was able to say in Chinese, "I can but not fluently."
Nearby was my college friend Elliot Thomson, a brilliant speechwriter and filmmaker, who had said back in the '90s that Hillary Clinton would be president in twenty years.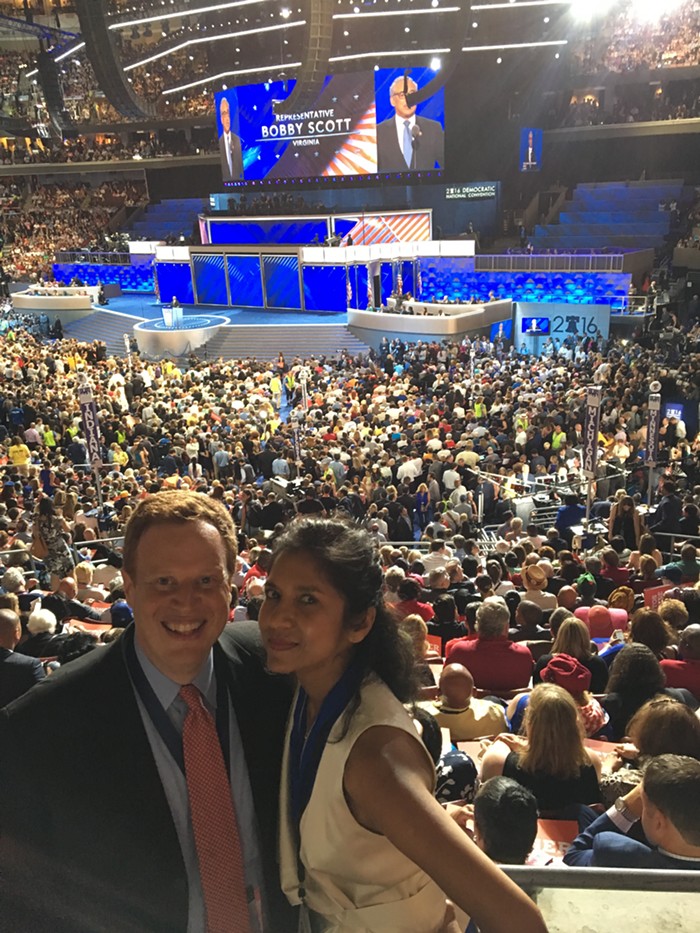 After hearing the damning of the other candidate and the praising of Hillary, especially with regard to concern for others, I'd like to think Elliot's prediction was right on. Kristen Kavanaugh, who served in Iraq and is co-founder of the Military Acceptance Project, made it clear how she felt: "I don't trust Donald Trump." Leon Panetta talked about his "firm concern" for the future of his children if Hillary doesn't win, as the audience erupted with boisterous chants of "We're with her."
After Dr. Jill Biden introduced her husband, Vice-President Joe Biden, he boasted about how he and Barack had "married way up." Biden urged people to listen without booing or cheering. "How can there be pleasure in saying you're fired? He's trying to tell us he cares about the middle class? Give me a break. That's a bunch of malarkey."
Mayor Michael Bloomberg said that "it's imperative" to elect Hillary Clinton, whom he called a "sane, competent person." Meanwhile, "if Trump runs a nation like he runs his business, God help us."
The highlight of the night was of course President Barack Obama, who was introduced by the self-proclaimed "sweet little old lady" Sharon Belkofer, a Gold Star mom whose son had died serving in Afghanistan. Obama spoke passionately about Hillary's strengths as an opponent, a member of his cabinet, and as a friend. He emphasized her international experience, her ability to handle the pressure of the Situation Room. When he referred to the other candidate, there were loud boos throughout the room. He silenced the crowd and then had them cheering with "Don't boo. Vote." He also commended Senator Sanders and his supporters: "Feel the Bern," and implored everyone to "do for Hillary Clinton what you did for me." Once his words were done, he lingered on the stage until Secretary Clinton made a live appearance. The two held hands as they waved to the jubilant crowd.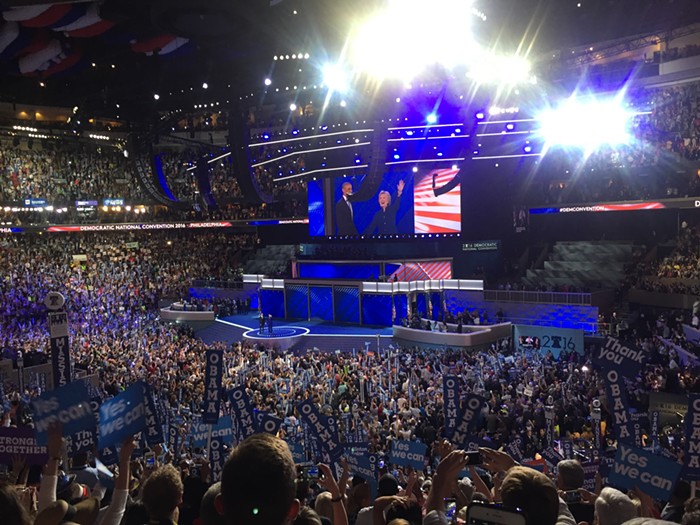 The program over, people streamed out of the Wells Fargo Center with swag-loaded arms. Farai Chideya, who is reporting for FiveThirtyEight, and I scoured the seats to grab some signs for ourselves, but they were hard to come by. Although I didn't get an Obama sign, I met a lovely woman from my second home-state of Oregon, Shana, who wore a stunning array of buttons.
Farai and I stopped off at her hotel to drop off her computer and rode up in the elevator with her boss Nate Silver, who must be having a devil of a time crunching the numbers in this anything-goes election.
The cab ride to our next stop reminded me that there's a very long way to go these next few months. The female driver, figuring that we were in town for the convention, talked politics in her whiskey-tinged voice and stated that both candidates are evil. I decided to take a personal approach and offered the experience of my birth-country Sri Lanka, its decades-long civil war, and how it's only now recovering from years of having been pillaged and corrupted by a dictator who reminds me a lot of Trump, with his narcissistic personality disorder.
When I got out of the cab, I thanked the driver and urged her to at least cast a vote. She thanked me saying I might have impacted her decision. That felt good, but I also realized that millions of these conversations need to be had with people who don't envision that our future is actually at stake. As Bloomberg said, Hillary knows that "this is not reality television. This is reality."
By the time Farai and I got to the Trocadero to see The Roots at the Bully Pulpit Interactive party, they had finished their set. Second-winded at 2 a.m., we walked over to Milkboy, where MTV was hosting a party, and met up with Walter Hickey, of FiveThirtyEight, and Justin Dangel. I told them about speaking Chinese with Eric Schneiderman. Justin turned to Walter, "Do you speak Chinese?" Walter, "I barely speak American… I use "Gucci" as a compliment… like 'this party is so Gucci.'"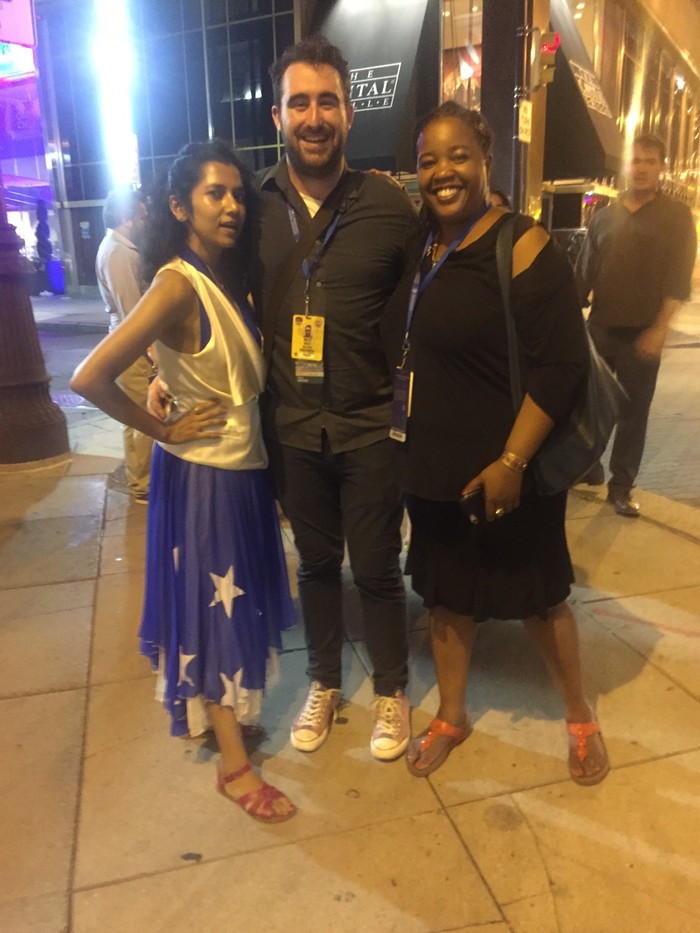 Another friend, James Taylor, who edited the Joe Biden intro video that aired at the DNC, texted me that the bar at the Ritz-Carlton was still hopping, so we went over there. I chatted with Hannah Rosenzweig, who was Hillary's personal videographer and is making ads for the campaign, and met Jeffrey Tuchman, who directed "The Man From Hope", the Bill Clinton documentary portrait from the 1992 convention.
Around 3:30 a.m., the lights went bright, signalling for us to leave, so we did. Winding down was hard, especially after witnessing Obama's display of affection for and with the person who should be our next President of the United States.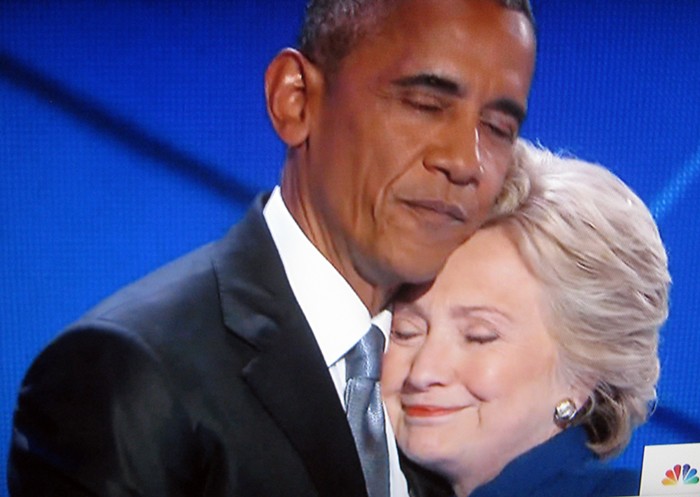 Tanya Selvaratnam is an Emmy-nominated and Webby-winning producer, and the author of The Big Lie. She is at the DNC with ART NOT WAR working on projects for Emily's List and Humanity for Hillary. tanyaturnsup.com