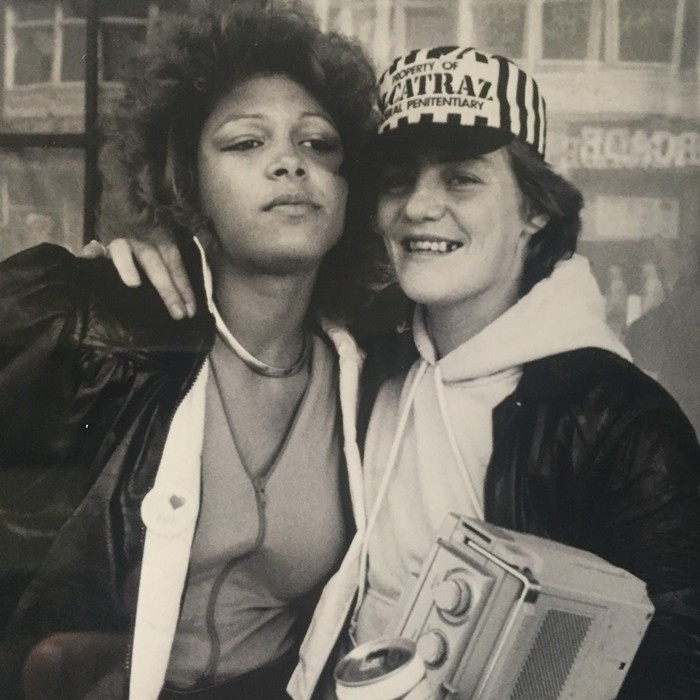 Sponsored
Plan Ahead. Prepay. Pick Up. Locations in Columbia City, U District, Capitol Hill, & West Seattle.
Lou Lou Couch was a young girl when she was held down and hurt by an older man in her mother's house. Her mother was an addict with 8 kids and zero fathers. Lou Lou told her family, but no one protected her. The man didn't leave. So Lou Lou did. She went out onto the streets of downtown Seattle, and there, she fought every bully she met, with her fists and her gravelly voice and her 5-foot-11 stature, until she lost her last fight.
As I write this I'm at Lou Lou's grave on Election Day morning. It's sunny out and a little cold at Evergreen Washelli. Lou Lou—"Lou Ellen"—is number 10-2007-3. She became a cult figure after the 1984 release of the Academy Award-nominated documentary Streetwise, about the kids living out on Pike Street in downtown Seattle, which had just been declared one of America's most livable cities. In the movie, Lou Lou charges at a man threatening a girl. She always stood up for the powerless, especially the girls, women, and kids of color who were especially vulnerable to intimidation and violence from all quarters, pimps to police.
"We watched Roberta's wanna-be pimp walk away pissed off," wrote Justin Early about one of Lou Lou's victories. "Lou Lou spat toward him for punctuation, as she always did when the weak impersonating the strong would cower away from her."
Lou Lou died trying to defend her girlfriend in 1985. Her headstone wasn't placed until 2014, by her younger brother Frank and a few friends. Until then, Lou Lou's grave was all but unmarked.
I met Frank last month. A gentle-mannered middle-aged man in professional dress and leather shoes, he is one of only three surviving Couch children. Lou Lou and four others are dead. He told me how Lou Lou protected him for the first time when he was very small, and how she tried to protect him when they lived at home, where drinks and drugs were a rite of passage. They both took to the streets.
Lou Lou was butch and out as gay, but Frank was closeted. What he couldn't hide was that he was the only Black child in the family. He was targeted all his life, and it only continued on the streets. The last time he saw his sister was when she was in her coffin. He was in chains. He'd come from jail, for another minor offense. Today he is a mental health counselor for King County, working with kids like him, and a happily married homeowner. It took him years after he served his time and got clean to leave behind his record, which landlords and bosses used to keep him out of plenty of housing and jobs.
And as Frank repeatedly points out, he is the exception. One of the two living siblings is still fighting addiction, and in rehab now. Frank doesn't know where the other one is.
On Election Day I want to tell Lou Lou's story right here from her grave—now the sun is getting higher and hotter on my back—because this is a day when it's natural to look at heroes, symbols, and icons. Lou Lou is one of those—and her bully-fighting resonates against the demagogue whose name I'm not even going to type.
But just as there is more to do than cast votes on one day or celebrate symbolic victories if they should come, Lou Lou's story is not just hers. (She has a place in Museum of Transgender Hirstory and Art, for instance.)
"My hopes for sharing our story would be the same hopes that my sister would have had," Frank told me. "Is it going to help somebody? Is it going to incite somebody to want to give a little more? Want to be of service? You don't need to give all your money away. Show up. You've got some clothes in your closet you don't want. Take those down to YouthCare. Show up."
Frank is working on the inside directly with youth and alongside other counselors and administrators who want to reform the mental health, incarceration, and education systems for kids. He's living out Lou Lou's specialty, of noticing who needs support, who doesn't have backup.
That's the demographic I want my next president to fight for. I was touched to see white mothers gathering in pantsuits at my child's school this morning, and I hope that if a certain white mother in pantsuits is elected, she will have Lou Lou's instincts for who needs backup. I hope we can all promise to keep finding ways to urge on that fight whoever is elected, to show up in ways personal and collective. That's the way to make sure that #ImWithHer actually helps anyone.
Because as it is now, as Martin Bell learned from making Streetwise, if you want to make it in the United States today, you have to be "born into the right bed." We shouldn't be a nation for the lucky.
Sponsored

Back by popular demand, Dan answers your burning relationship questions live on Zoom!