Transit nerds across the region are waiting nervously (but optimistically, they assure me!) for tonight's results on Proposition 1, the measure at the verrrry end of your ballot to dramatically expand light rail in Seattle and beyond. (It's also known as Sound Transit 3. You should vote for it.)
For ST3 to win, the measure will need support from voters across Puget Sound. But strong support in Seattle could help carry it despite "no" votes elsewhere.
Because Sound Transit collects taxes and builds projects across the region, voters in the most populated portions of King, Pierce, and Snohomish Counties are voting on ST3. But the suburbs and cities outside of Seattle are less enthusiastic about light rail (and taxes) than Seattle. This is the dynamic that's always in play for Sound Transit measures, but it will be especially important this year as voters decide on our region's biggest ever rail measure.
Check out this map, created by Oran Viriyincy for Seattle Transit Blog back in 2008 after the passage of Sound Transit 2:
Seattle, you can make ST3 happen. You can counteract the anti-transit 'burbs. Look at this map from ST2. Then vote. https://t.co/9x8V7aj48E pic.twitter.com/JEMbtmHovQ
— Heidi Groover (@heidigroover) November 8, 2016
ST2 failed or nearly failed in many outlying areas, but passed by more than 65 percent in Seattle. We can't get more light rail without any support from the rest of the region. But we can help offset those areas that are just never going to get behind paying for mass transit.
That will only happen if we show up and vote "Approved." Nearly 54 percent of King County voters have already voted, slightly more than both Pierce and Snohomish Counties. That's a good sign. Have you turned your ballot in yet?
Sponsored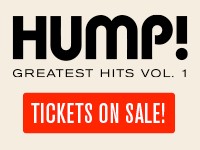 What are YOUR favorite HUMP! films? Start with HUMP! Greatest Hits, Volume One! Relive the memories!